Unless you have been hanging out in a cave for the past few weeks, or only listening to music, you should have heard that global oil prices are in a freefall.
How much of a freefall?
The chart below, annotated by Bloomberg, shows global oil prices history (West Texas Intermediate) since the early 1980s.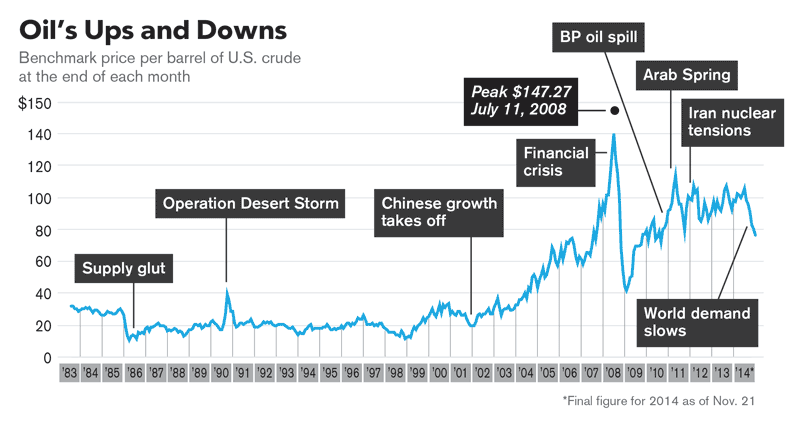 As can be seen, after spiking in mid-2008, as most of us remember, prices plummeted by mid-2009, to just some $40 per barrel in the depths of the great recession.
But from there, it's been strongly up at about a 45-degree diagonal line, hovering around $100 per barrel over the last couple of years - until the past few months.
At somewhere around $68 per barrel, prices are down almost 40% from 2014 peak prices - and many experts are saying we could be headed for prices in the $50 per barrel range - or maybe even lower - at least for awhile in the early months of 2015.
The fly in the ointment - while gasonline e prices have fallen roughly on par with lower oil costs, the diesel prices that impact shippers have only declined modestly, even rising a bit in the US for the forst half of December.
Why? Will that change? And when will oil prices head back up? We'll get answers from energy market expert Stephen Schork on our supply chain video news program with CSCMP this next Monday morning - you won't want to miss it.
Any Feedback on our Supply Chain Graphic of the Week? Let us know your thoughts at the Feedback section below.