A couple of weeks ago, SCDigest editor Dan Gilmore wrote what is always one of his most popular columns of the year, SCDigest analysis of the inventory data compiled by REL, a Hackett company, as part of its overall review of total working capital performance, based on numbers for "Days Inventory Outstanding." (See US Inventory Performance 2014."
Then earlier this week, we did a somewhat similar if slightly less detailed analysis of a second component of working capital, relative to accounts payable, as measured by Days Payables Outstanding (see Payments Times to Vendors Rose Slightly in 2013.) This metric is obviously directly connected to policies relative to how fast - or slow - a company decides to pay its vendors.
The third component of working capital is accounts receivable, as measured by Days Sales Outstanding. While the supply chain has probably the weakest link to this measure of the three, customer satisfaction, error free shipments and other supply chain factors of course can impact how quickly a customers pays its bills on the B2B side.
Working capital is important because it is directly tied to cash flow, one of a company's most important financial metrics, closely watched by Wall Street analysts. Every dollar not tied up in working capital goes directly to free cash flow. So, a company should want to reduce DSO, reduce DIO, and increase DPO (even if the latter move might not always be fair to vendors.)
REL nicely provided a chart in its report, showing overall changes in those three measures among the top 1000 publicly traded US companies, as shown below. Not that this will not exactly sync with SCDigest's analysis, because we excluded many companies such as banks and insurers that do not have a physical supply chain the way manufacturers, retailers and wholesalers do, though we believe our numers would show the same trends.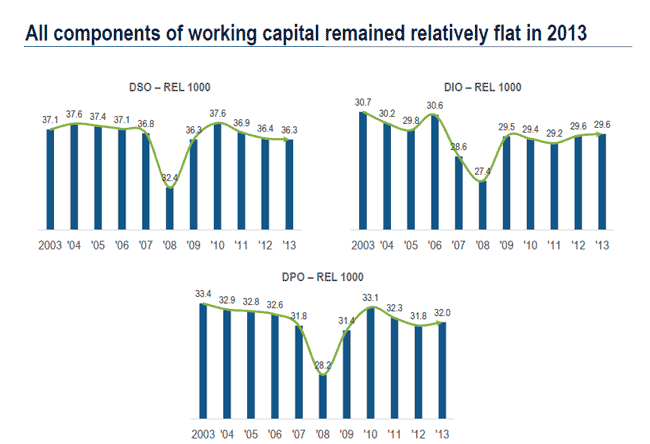 Source: REL
DIO and DPO have largely flat lined over the past three years, while DSO has been trending down just a bit. Of course, there is a built in relationship here where one company's DSO relates to another company's DPO, but that's too deep for us to ponder here. It just seems to us they can't both be moving in a positive direction.
Inventory as measured by DSO hasn't really budged since 2009, but we are even more surprised to see so little change in the DPO numbers, given a number of media reports about many companies in recent years stretching out payments terms to vendors.
But it isn't showing up yet in the data.
Any Feedback on our Supply Chain Graphic of the Week? Let us know your thoughts at the Feedback section below.