As many etailers struggle to move into the black on the bottom line, is pricing optimization a tool that more should consider to raise margins?
On-line merchant Rue La La certainly benefitted from such an approach.
The company has a unique business model, as it is focused on so called 'flash sales," in which it offers certain items for just a few days or even hours.
Dr. David Simchi-Levi of MIT was initially brought in to look at some inventory management issues at the company, but wound up recommending use of pricing optimization to deal with both inventory and margin opportunities.
One early step was to segment the results of individual sales in terms of how much of the inventory Rue La La had brought in was moved (sell through), as shown in the graphic below.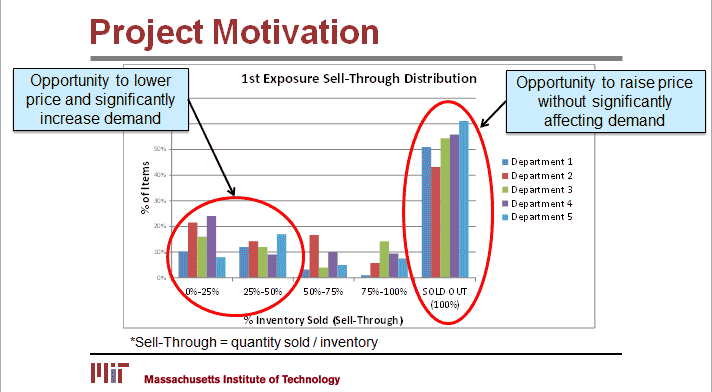 For sales with low sell-through, the likely approach would be to reduce prices to drive greater unit demand. For sales in which inventory is sold out, the opportunitiy is to raise prices to increase the top and bottom lines.
But, you may say, it's easy to see the opportunity from past sales, but how do I know in which category an upcoming sale is likely to fall? Well, that forecasting work, based on the sales history of similar products, the price of competitive products and more, was part of the solution. The forecast and other factors feed advanced analytics to calculate the optimal price for each item.
In phase I, just the initial sell price was optimized. The result: an increase in revenue of some 13%, a huge success that went straight to the bottom line.
In phase II, the price will also be optimized dynamically as the sale proceeds.
This project recently won a major award from IMFORMS, the operations research society. More detail from SCDigest next week.
Any Feedback on our Supply Chain Graphic of the Week? Let us know your thoughts at the Feedback section below.