Earlier this year, while working on a report relative to Voice technology, it occured to us that there wasn't a single place where potential or current Voice users could identify providers of Voice software.
What is Voice sofware? At the core is the Voice recognition capabilities, of course, but beyond that there are specific Voice applications in areas like order picking, "screen mapping" tools to make it easy to switch from RF to Voice, system and network management tools, and more.
So we partnered with Mototora Solutions, soon to become part of Zebra Technologies, on compiling a list of the top Voice software providers, which you will find (along with a brief description of their solutions) in the graphic below, which was taken from the report:"
Top Voice Software Providers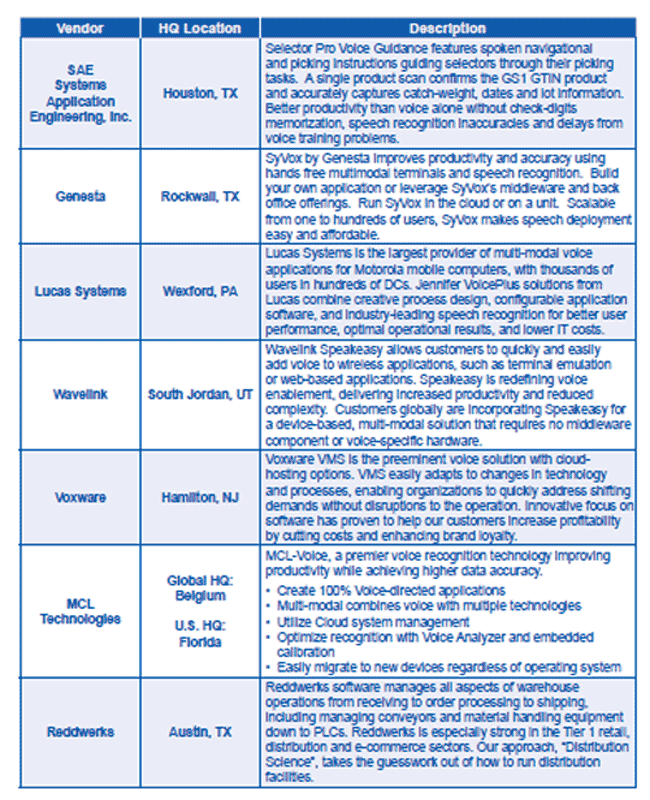 Source: SCDigest
There may be some we missed, and the list does not include Vocollect (now part of Honeywell) that offers an integrated Voice hardware and software solution, but it's the best we've seen to date.
We hope readers find it useful.
Any Feedback on our Supply Chain Graphic of the Week? Let us know your thoughts at the Feedback section below.