Last week, SCDigest editor Dan Gilmore reported on results from the seventh annual SCDigest-Gartner supply chain study, released in late May and based largely on survey input from almost 500 SCDigest readers. (See Insight from the 2014 Gartner Supply Chain Study.)
We included several charts from that report in Gilmore's column, but only described the results from a question about the top supply chain initiatives for 2014.
You will find the chart from that question below, as our Supply Chain Graphic of the Week: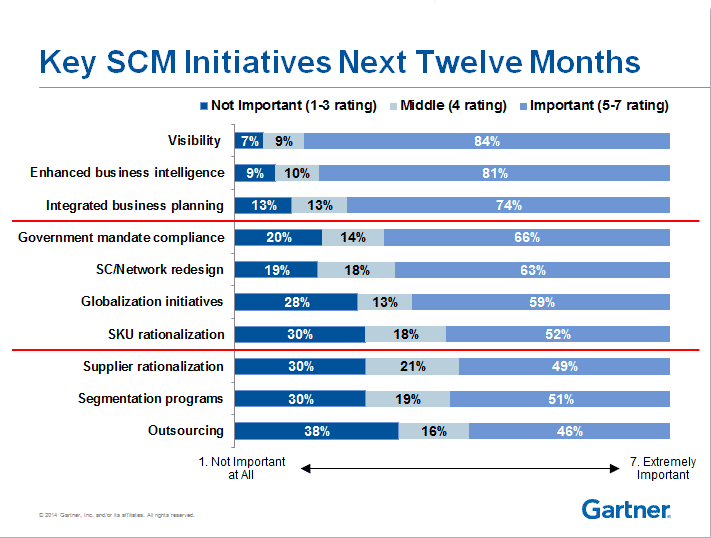 To be clear, this represents the rankings based on the choices offered by Gartner in the question, and can be contrasted with the top overall supply chain priorities, which were process improvement and supply chain cost reduction, coming in at number 1 and number 2, respectively.
Still some patterns are clear. Improving supply chain visibility appears to be the top supply chain initiative for companies, with 84% of respondents selecting that as being "important," while just 7% said it was unimportant.
Coming in second was improving business intelligence, which was selected by 81% of respondents as being important, and is surely connected to the current high focus on "Big Data" and adnvanced analytics.
The impact of growing regulations can also be seen, with compliance efforts coming in as the fourth highest ranked initiative.
Even the least highly ranked initiative, related to outsourcing, was deemed important by 46% of companies. Looks like with all these initiatives seen as important, we will stay busy in the supply chain for some time.
Any Feedback on our Supply Chain Graphic of the Week? Let us know your thoughts at the Feedback section below.