Earlier this year, the World Bank came out with its latest bi-annual Logistics Performance Index, which this year rated 160 countries across the globe across a variety of logistics measures.
SCDigest wrote a full On-Target story on the report, which you can find here: Bi-Annual World Bank Logistics Performance Index Places Germany on Top, US at Number 9 Position
In our Supply Chain Graphic of the Week, we offer the quick version, featuring the two most important tables in the report.
First, the ranking of all 160 countries from top to bottom, as shown below:


Rankings by Country for the World Bank's Logistics Performance Index 2014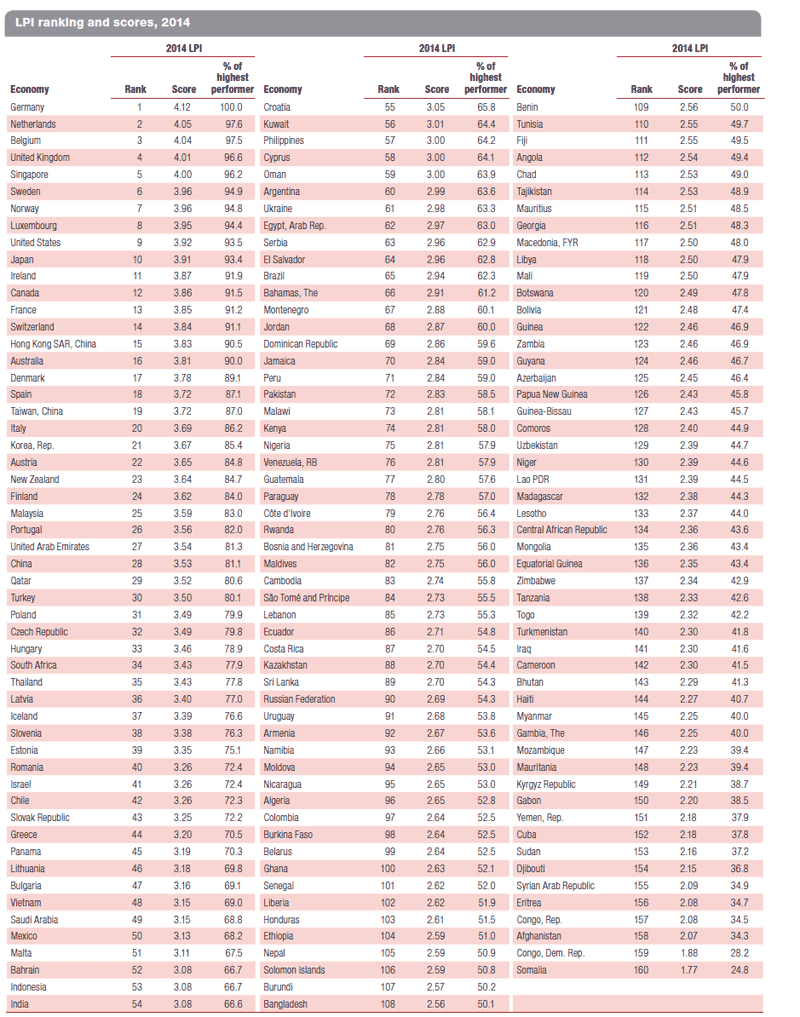 Source: World Bank
As can be seen, European countries, including top ranked Germany, dominate the top 10 and top 20 again this year. The US came in at 9th place, same as last year. China was in the 28th spot.
The second graphic spells out the rankings by category for the top 10 countries across the six main attributes that are used to compute the final scores. Interestingly, for all the hand wringing relative to US logistics infrastructure challenges, the US actually ranked number 5 in the world in that category. The US would have been near the top ranking overall except for a relatively poor rank of 26 on ease of international shipments.
Detailed Ratings by Category for the World Bank Top 10

Source: World Bank
The scores are based largely on surveys from hundreds of global freight forwarders with knowledge of specific countries, plus further input from experts within individual counties.
Do you agree or disagree?
Any Feedback on our Supply Chain Graphic of the Week? Let us know your thoughts at the Feedback section below.