At the Gartner Supply Chain Executive Conference this week in Phoenix, Annette Clayton, EVP of Supply Chain at power management giant Schneider Electric, discussed the company's recent supply chain transformation.
During in a keynote discussion, Clayton described a whirl of supply chain activity since she took the job, the center piece of which the company calls building "tailored supply chain" capabilities. What does that mean?
It is Schneider's version of supply chain segmentation. The company identified 10 different customer segments based on needs, and then created four different delivery models to meet those success requirements.
Throw in a redesign of the supply chain organization, a focus on Sales, Inventory and Operations Planning (SIOP), some network optimization and more, and Schneider truly had an ambitious plan.
It is delivering results quickly. As shown in the chart below, Schneider is well on its way to meeting goals for customer satisfaction, inventory reduction and operational savings from these initiatives.
Schneider is Finding Quick Results from Its Supply Chain
Transformation and "Tailored" Supply Chain Strategy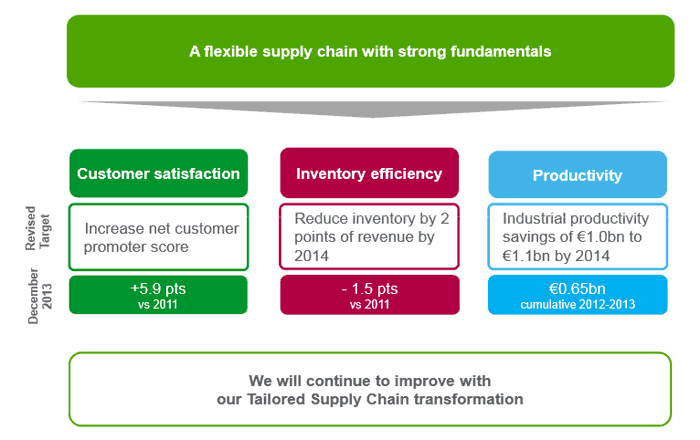 Source: Schneider Electric
There's more. In another look at inventory, Schneider has reduced average days of inventory from 92 in 2011 to 81 last year, and on-time delivery achievement by two percentage points over the same period.
That is certainly delivering some real "power" to the company's supply chain resuts.
Feedback on our Supply Chain Graphic of the Week? Let us know your thoughts at the Feedback Button below.