Do you know which suppliers really present the greatest risk to your supply chain - in financial terms?
In early 2012, Dr. David Simchi-Levi of MIT and now his own consulting firm opsRules released for the first time his new approach to quantifying risk management - what he calls the Risk Exposure Index (REI) - on a videocast on our own Supply Chain Television Channel .
In great summary, the REI involves calculating a "time-to-recovery" for each node in the supply chain in the event of a major supply chain disruption, and then a resulting "financial impact" until that TTR is achieved. It is a major breakthrough in supply chain risk management thinking, because it provides a framework to truly quantify the analysis. Compare that to the most commonly used approaches, which simply rate risks on a rather imprecise estimate of the size of financial risk from a disruption and the likelihood of the risk occurring.
Those traditional approaches are especialy poor for what Simchi-Levi calls the "unkwown unknowns," such as natural disasters, which cannot be forecast. The REI addresses that without the need to estimate probabilities, because it focused on the impact of a disruption at specific supply chain nodes, in a company's own network or those of its suppliers, regardless of the cause of the disruption. Earthquake, flood, fire - doesn't matter.
Recently, the Harvard Business Review published an article by Simchi-Levi that describes the REI, and which summarized a case study of auto giant Ford's use of the REI framework - a case study that again was first told in a SCTV Channel videocast. To watch an on-demand version of that broadcast, go here: New Approach to Supplier Risk Management at Ford.
The original HBR article can be found here: From Superstorms to Factory Fires: Managing Unpredictable Supply-Chain Disruptions. Note that access to the article will require registration, and that a pdf of the piece is available for a small charge.
In that HBR article is the graphic published below. While the data has been changed to protect Ford's confidential information, the thrust of the chart data is accurate: the financial impact from a supplier disruption often come disproportionately from vendors for which total spend is relatively low.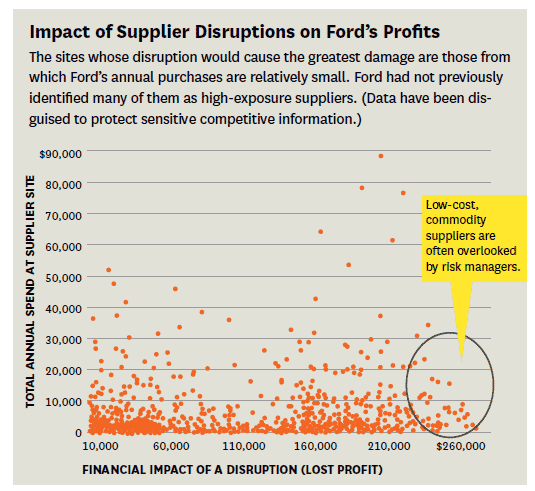 Source: Dr. David Simchi-Levi, Harvard Business Review
As can be seen, very few of the suppliers for which the financial impact of a disruption is high are those for which total spending is also high.
Why? Because vendors with high spend usually receive lots of attention, with much focus on risk reduction, and tend to be larger companies that are likely to have multiple factories, reducing time-to-recovery.
Small but critical suppliers, however, may be hard to quickly replace, leading to extended downtime.
"Even the savviest managers are prone to equating total spend with performance impact: They rightly identify strategic components as carrying high levels of supply chain risk, but fail to consider that low-spend suppliers, often of commodity goods, may represent outsize risks," Simchi-Levi writes in the HBR article.
Feedback on our Supply Chain Graphic of the Week? Let us know your thoughts at the Feedback Button below.