The highly controversial North American Free Trade Agreement (NAFTA) is 20 years old this year, having been signed into law by then President Bill Clinton in February 2004, opening up trade dramatically between the US, Canada and Mexico.
That was after the 1992 election, during which independent candidate Ross Perot famously said that if approved, NAFTA would lead to a "great sucking sound" as manufacturing jobs were quickly lost south to Mexico.
So what's the verdict 20 years later? As you might imagine, there are opinons on all sides, from some viewing NAFTA as a huge success to others saying it has been a disaster for the US, and everything in-between.
The chart below provides some context, looking at net balance in merchandise trade (including energy) over the past five years for the US with both Canada and Mexiico.
US Merchandise Trade With Canada and Mexico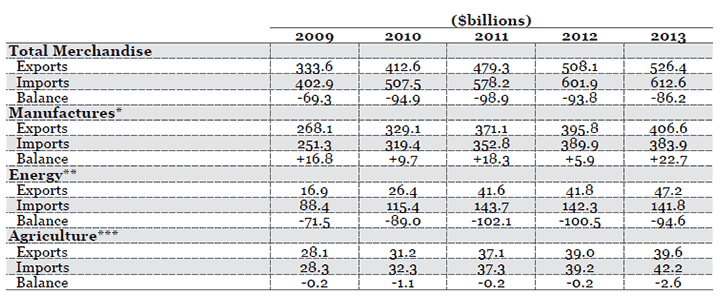 Source: MAPI, from Census Bureau Data
All told, the US had a NAFTA trade deficit of $86 billion dollars in 2013. But as can be seen, almost all of that was from energy, and almost all the energy imbalance is with Canana - the US buys a lot of oil from its Northern neighbor.
In manufactured goods, the US actually enjoys a $22.7 billion surplus - and again, that is driven by trade with Canada. If effect, Canada ships the US oil, and the US ships Canada manufacturered goods. In 2013, the US had an energy deficit with Canada of $82 billion, but a manufactured goods surplus of $63 billion.
Agriculture imports/exports are nicely balanced.
But the US had a trade deficit in manufactured goods with Mexico of $40 billion last year, as well as a an $11 billion deficit in energy, and a small deficit in agricultural goods. So perhaps there has been a small sucking sound.
It shoud be noted that trade amongst the three NAFTA partners has grown much faster than overall global trade.
Our view: NAFTA has certainly not been the disaster predicted by Perot, but Mexico appears to have been the primary beneficiary of the pact to date.
Any Feedback on our Supply Chain Graphic of the Week? Let us know your thoughts at the Feedback Button below.