SCDigest editor Dan Gilmore was very impressed with a presentation by Bill Nienburg, VP of Global Merchandise & Sales Planning at Under Armour, at the Logility Connections user conference in Atlanta a few weeks ago (See Under Armour's Athletic Supply Chain.)
As part of Gilmore's column, he showed a model Nienburg has developed for what he calls "4D Collaboration," suitable for both internal and external collaborative efforts.
We liked that model so much we are going to repeat it here as our Supply Chain Graphic of the Week.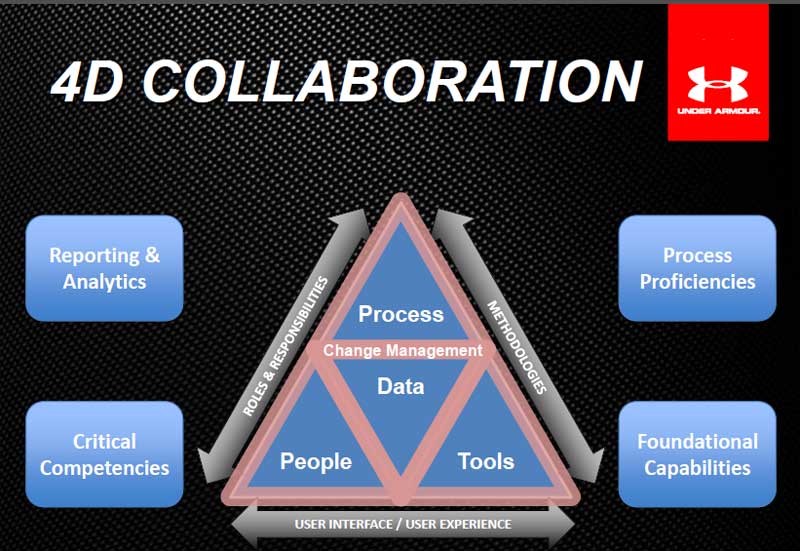 Here is what is different about this model - it puts "data" at its center. Neither internal nor external collaboration will work without accurate, timely and granular data, Nienburg said. So that is where UA started its collaboration efforts, by investing in the data (master data management, data governance, etc., along with tools to leverage the data) that its sees as the foundation of collaboration competence and excellence.
When the barriers to effective collaboration are mentioned, the discussion usually starts with things like "trust" and "benefits sharing" and "processes" - maybe all of those and more are in the end largely symptoms of a lack of data.
The other elements in the model are basically people, processes and technology (tools), but I think Nienburg added some excellent additional insight to those common elements.
As just one example, UA has defined the critical competencies its people must possess to execute the level of collaboration and supply chain excellence it wants to achieve (moving targets, by the way, as it progresses down various maturity models). It then builds skills development and training programs to ensure its staff has those critical competencies.
How does your collaboration model stack up?
Any Feedback on our Supply Chain Graphic of the Week? Let us know your thoughts at the Feedback Button below.