Multi-channel commerce is obviously an area of intense focus for many companies these days, but the formula for success is still being developed, even as many retailers are concerned about being "Amazoned."
A new report/study from Deloitte and MHI (Material Handling Institute) addresses multi-channel fulfillment as part of its overall scope. That includes the chart below, on what companies perceive as their top multi-channel fulfillment challenges.
Top Multi-Channel Fulfillment Challenges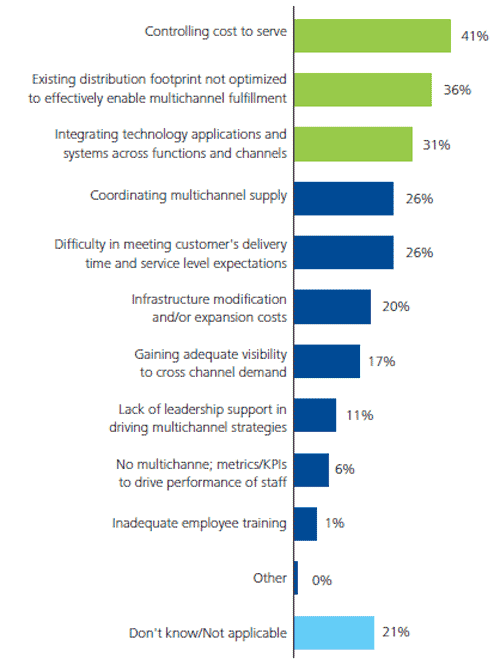 Source: The 2014 MHI Annual Industry Report
Not surprisingly, managing "cost to serve" came out on top, as many etailers - including Amazon - are struggling to reach profitability, in part due to the cost of fulfillment.
Not having the right network to optimize efulfillment came in second, and that makes a lot of sense too, as nearly all existing networks were not designed with ecommerce in mind.
And tying all these systems together, in part to deliver the same experience to customers regardless of channel, was the third most cited challenge.
How does this list line up with your company's efulfillment challenges? Let us know below.
Any Feedback on our Supply Chain Graphic of the Week? Let us know your thoughts at the Feedback Button below.