There is growing recognition that a reduction in supplier lead time variability has a bigger impact on inventories and supply chain performance than do equivalent decreases in average lead times.
But can this perception be quantitified? The answer is Yes, as nicely discussed during a recent Videocast on our Supply Chain Television Channel on Schneider Electric's journey using Inventory Optimization software.
To view the full Videocast on-demand, go to: Videocast - Inventory Optimization at Schneider Electric.
This link will take you to a page that allows you to view the Videocast, download the slides or a podcast of the QA session, and more.
During that project, assisted by Dr. David Simchi-Levi's company OPSrules, this specific analysis was performed, as shown in the graphic below.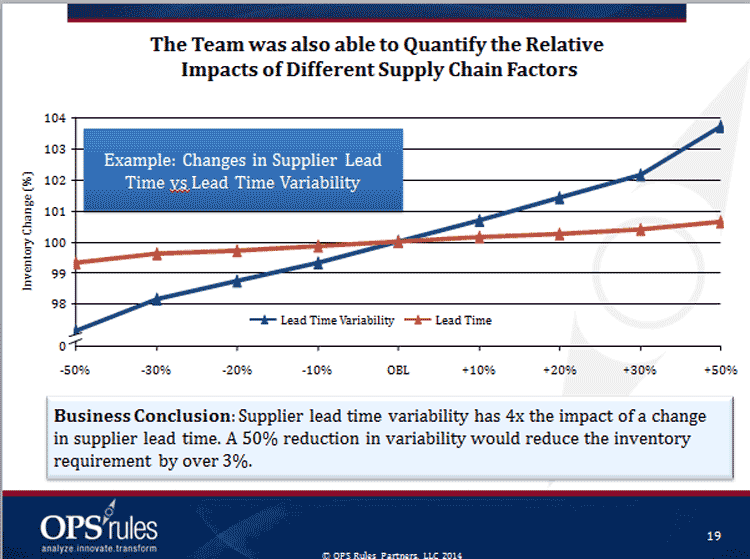 Source: W. James Watt, OPSrules
The left side of the X-axis represents reductions in both lead time averages and variability, plotted against changes in required inventory levels on the Y-axis.
As can be seen, a 50% reduction in lead time variability results in potential inventory reductions of about 3%, while a similar reduction in average lead times would reduce required inventory levels by less than 1%.
While this analysis is specific to Schneider's individual scenario, OPSrules' Jay Watt said during the Vieocast QA that lead time variaibility having a bigger impact on inventory than the length of the lead time itself is generally the case.

Any Feedback on our Supply Chain Graphic of the Week? Let us know your thoughts at the Feedback Button below.