There is no question that in general finance and supply chain functions (and executives) have moved closer to each other over the past decade, for a variety of reasons.
Those would include:
• General tearing down of functional silos within businesses
• CFOs better understanding the impact of supply chain performance not just on profit and loss but areas like free cash flow and return on assets
• Chief Supply Chain Officers better realizing that speaking the language of the CFO will enable them to get a lot more things done/funded
With that quick intro, we were interested in a new report from the consultants at E&Y on the relationship between the finance and supply chain, based in part on a survey from executives in each area across the globe.
One question in that survey ask each respondent to select the top three priorities for the business over the next three years. The results are shown in the graphic below, segmented by finance and supply chain personnel.
Are Finance and Supply Chain Executives on the Same Page Regarding Key Issues?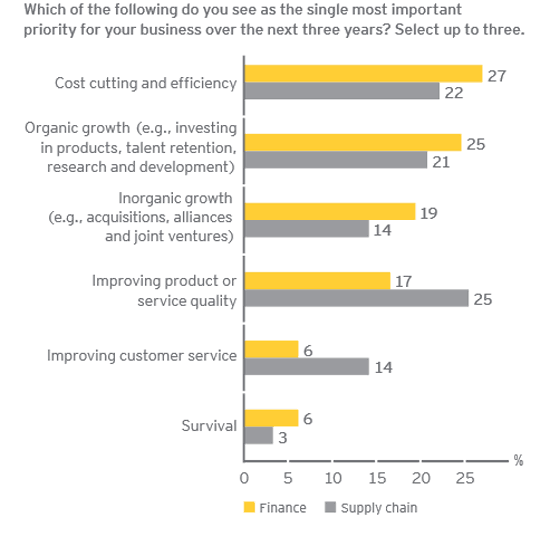 Source: E&Y
The results, it seems to SCDigest, are mixed. It's not a surprise that supply chain execs don't see inorganic growth (mergers and acquisitions) as a top issue (unless, we'd guess, the CEO has made that a key strategy).
There are of course some other differences in perspective, but the most notable are the ones related to quality and service. Improving quality was seen as the number 2 priority by supply chain executives, selected by 25% of respondents, whereas it ranked fourth on the CFO list, with just 17% seeing it as a top three priority.
There was a similar sort of discrepancy with regard to customer service.
SCDigest's takeaway? When pitching for investments to improve quality or service, you better really have a good story - and of course good numbers.
Any Feedback on our Supply Chain Graphic of the Week? Let us know your thoughts at the Feedback section below.