Outsourcing manufacturing has lots of benefits - else why would so many companies be doing it?
Yet, the outsourcing strategy may paradoxically lead companies, especially retailers, to cede control of product features, functions and cost points to their contract manufacturers, leaving a lot of potential profit dollars on the table.
So say the consultants at McKinsey, in a recent web article.
"The private-label offerings of retailers, for example - despite producing margins that are typically more than 20% better than those of similar branded goods - sometimes contain features and specifications that customers don't particularly value, while lacking others they consider critical," McKinsey says.
The article cites the example of one hardware retailer's private-label measuring tape had a sturdier, heavier retraction coil than those of competitive models. But what customers really wanted, the retailer found, was a smooth retraction movement, not a strong coil. By getting the supplier to use a lighter, smoother one, the retailer reduced the product's cost and increased its value to customers.
McKinsey's analysis finds that the savings opportunities for retailers (and perhaps manufacturers as well) from taking more control of the process and "designing to value," is substantial in terms of reducing costs of goods sold (COGS), as illustrated below.
Percent Savings in COGS from Smarter Design
of Private Label Goods Across Retail Sectors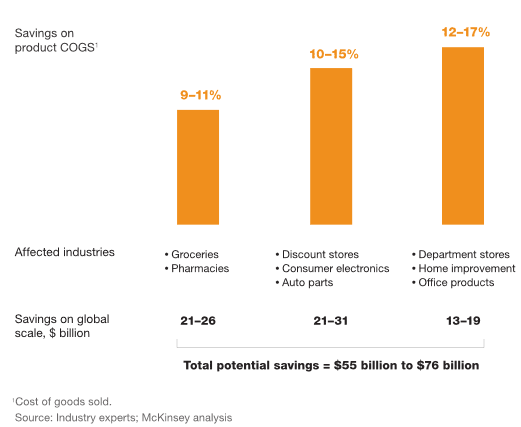 "Consumer-facing companies typically know more about their end customers than contract manufacturers do. Passing that knowledge along is good for everyone," McKinsey notes.
Outsourcing can sometimes be a slippery slope - don't lose control of product design decisions.
Any Feedback on our Supply Chain Graphic of the Week? Let us know your thoughts at the Feedback section below.