Use of homegrown software for supply chain planning is about gone today, due to the huge popularity of packaged solutions, right?
Think again.
We've just released our new Supply Chain Planning Benchmark 2014 report - and it is excellent, if we do say so ourselves.


Based on survey responses from some 400 supply chain professionals, the report is among the most comprehensive studies ever performed on supply chain planning processes and technology.
You can download this excellent report, crafted in an easily accessible, infographic style, right here: Supply Chain Planning Benchmark 2014 Study.
That report includes the chart below, which quantifies the use of in-house software for supply chain planning.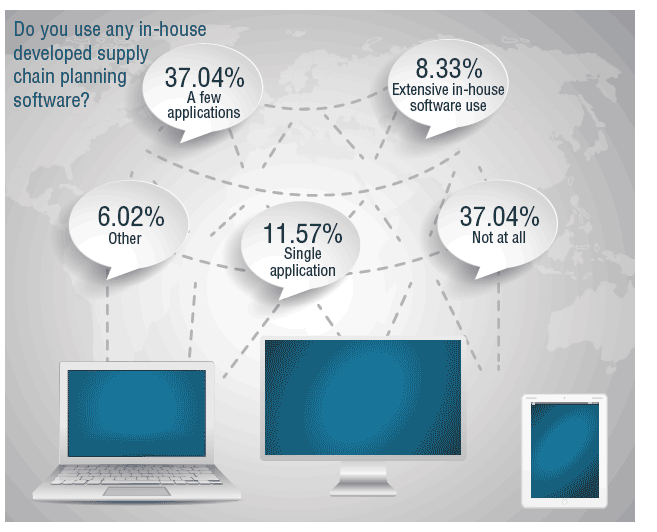 Source: SCDigest's Supply Chain Planning Benchmark 2014
We must confess this data surprised us, with use of in-house coming in at much higher levels than we would have predicted.
While more than 1 in 3 companies do not use any homegrown applications, and equal number use in-house tools for more than one application, and about 8% use homegrown tools extensively.
Our theory: as the market has migrated to fewer, larger planning vendors that try to support virtually every market sector, it becomes in fact increasingly difficult over time to meet the needs of all those sectors extremely well. So, companies fill in around the edges themselves. Additionally, there are some sectors that aren't well supported at all (say oil and gas), and they have to write a lot of their planning apps internally.
Again, this excellent new planning report is available here. We thank consulting and IT services firm Cognizant for making the research possible.
Any Feedback on our Supply Chain Graphic of the Week? Let us know your thoughts at the Feedback section below.