As you may have already seen, Gartner and SCDigest have launched our 7th annual supply chain study, one of the industry's most important research efforts.
Gartner uses the insights from this survey for reports, conference presentations and more for most of the following year.
You can take the quick 10-minutes survey here: Gartner-SCDigest survey link.
As always, survey respondents will be able to choose between two excellent pieces of Gartner research, valued at about $500.00:


| | |
| --- | --- |
| | The Gartner Supply Chain Top 25 for 2013 |
| | |
| | Cool Vendors in Supply Chain Management Applications, 2013 |
We thought it would be interesting here to present just one of the charts from last year's report. It uses a classic two-by-two matrix (which of course is an analyst's bread and butter tool), based on asking respondents about importance and success levels across a number of common supply chain strategies and initiatives.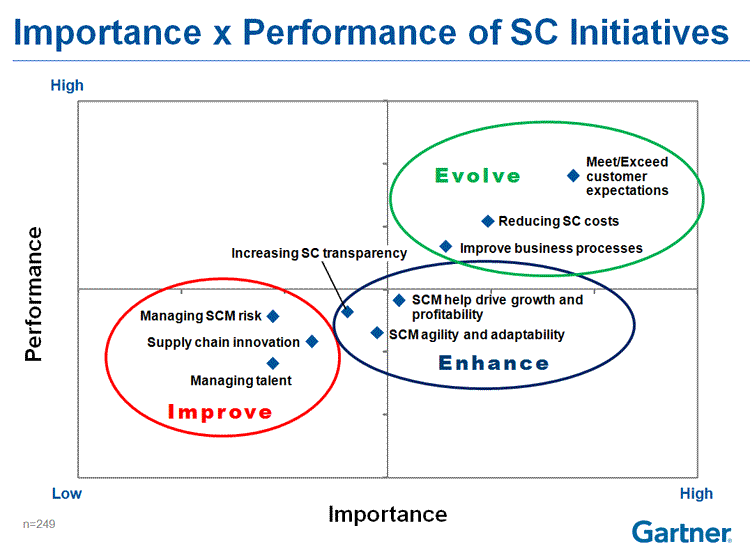 As can be seen, the sort of core/longstanding efforts around cost cutting and customer service ranked highest in both importance and performance. And indeed, the lower the level of importance, the lower the level of performance, naturally enough.
We were only surprised by one thing here, and that was that managing supply chain risk scored so low in relative importance - risk management certainly seems high on the radar screens in many companies today.
There will be a lot more great insights from this year's study.
Please help our efforts again this year, and receive a free Gartner report.
Any Feedback on our Supply Chain Graphic of the Week? Let us know your thoughts at the Feedback section below.