Both SCDigest survey data as well as anecdotal evidence indicates that achieving better integration between supply chain planning and supply chain execution is a hot topic in most companies today.
In a soon to be released report from SCDigest, for example, 51.8% of respondents said they saw significant opportunities for improvement from better integration of planning and execution.
But what does that really mean?
Planning is perhaps more well understood, with the traditional hierarchical planning model of strategic, tactical, and operational planning that then feeds (we hope) into execution processes.
But execution is a bit more tricky. Supply chain analysts invented the term "supply chain execution" or SCE more than a decade ago, but that term was mostly associated with warehouse management and transportation management software.
Execution certainly includes distribution and transportation processes, but also includes (where relevant) manufacturing scheduling, retail in-store execution, global logistics management and more.
So what does integrated planning and execution look like? During a recent presentation at the Fall version of JDA Software's Demand Optimization Council (DOC) meeting of some of its top manufacturing and retail customers, SCDigest editor Dan Gilmore gave a presentation that included this simple model, as illustrated below: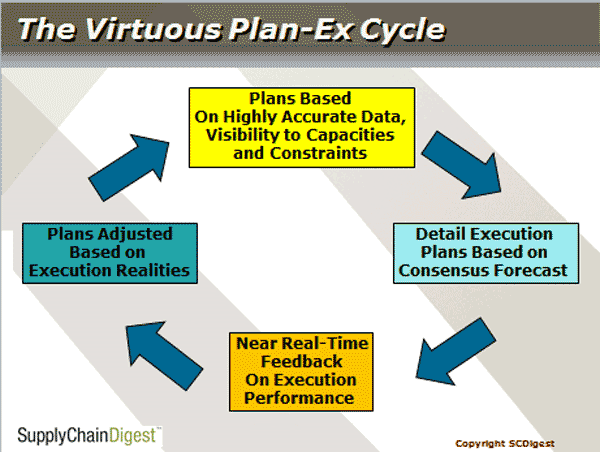 The basics:
1. Plans are built on a high level of data accuracy and integrity. That accuracy comes from pervasive data collection systems that feed into execution systems. Planning is also based on near real-time visibility to execution capacities and constraints.
2. Execution makes its own plans based on a detailed consensus forecast from planning.
3. Planning, especially tactical planning, receives near real-time data from execution systems on the plan's success. Data latency is dramatically reduced.
4. Operational and tactical plans are adjusted based on that execution feedback, and the cycle starts again.
Sounds simply and obvious, right? But how many companies are really living it today? We don't think too many yet, in terms of where this is headed.

Any Feedback on our Supply Chain Graphic of the Week? Let us know your thoughts at the Feedback section below.