Our "Keep It Moving" Expert Insight columnist Marc Wulfraat of MWPVL International is the world's foremost tracker of activities related to Amazon.com's fulfillment center network, serving as a source to major general news outlets and Wall Street firms alike.
He has not only kept up with where Amazon is building fulfillment centers, but recently looked at that existing network and how well it supports the same-day delivery capabilities that Amazon appears to be working hard to get to. (See How Close to Reality is Amazon Same Day Delivery?)
In that column, Wulfraat compared the location of Amazon FCs to the 20 largest Metropolitan Statistical Areas (MSAs) in the US. Those 20 biggest MSAs, from number 1 New York City area to number 20 Baltimore, comprise about 37% of the total US population.
Wulfraat assumed that an Amazon FC would need to be within 100 miles of an MSA to be able to provide same day delivery services. Give that assumption, he found that Amazon's current network could support same-day in 8 of the 20 largest markets, holding about 14% of the US population.
Wulfraat tightened his 100-mile rule just a bit for the Washington DC MSA, which is 90+ miles away from the nearest FC in Delaware, because he believes the traffic congestion in that market would preclude use of that facility as a same-day sourcing point.
Two other notes: (1) Amazon is currently building a general merchandise FC and a food FC in Northern New Jersey, which could open up at least part of the vast New York City MSA. (2) Amazon's total same-day reach even now is larger than 14% of the US population, as it has FCs near other large MSAs that fell outside the top 20, such as Indianapolis, Cincinnati and others that he calculates bring the actual reach to closer to 15.% of the total US market.

With all that, we took Wulfraat's outstanding research and turned it from a table format to a graphic, as shown below.
The circles represent the top 20 MSAs. They are sized roughly by relative population, with the MSA's population total over each circle. Amazon FCs that can reach one or more of those MSA within 100 miles or less are located with small FC icons. (Note that the San Bernadino FC would serve both that MSA and the nearby Los Angeles one.)
A yellow circle indicates that MSA is within 100 miles of an Amazon FC, a red circle indicating the opposite.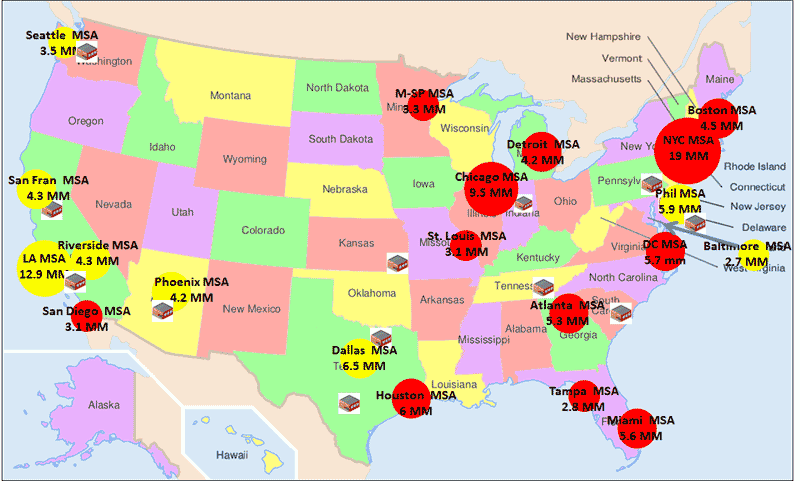 Source: Marc Wulfraat, MWPVL
It is interesting to sort of guess what Amazon might do next. Would Chicago likely be the next FC location - maybe picking up Milwaukee at the same time? The San Bernadino DC is just 107 miles from San Diego - could that work?
Or is 100 miles actually too far to be practical - do you need to be even closer? You would have to have orders in very early in the morning to have orders picked, packed and delivered from almost 100 miles away - or have deliveries coming well into the evening.
All questions to be sorted out, as the eFulfillment wars continue on.
Any Feedback on our Supply Chain Graphic of the Week? Let us know your thoughts at the Feedback section below.