As we reported earlier this week, food giant Mondelez - the $36 billion snack food part of Kraft Foods that was split off as a separate public company in 2012 - gave Wall Street an update on its incredibly ambitious supply chain transformation plans a couple of weeks ago at a investment conference sponsored by investment bank Barclay's (see Food Giant Mondelez in Midst of Dramatic Supply Chain Transformation).
We've now acquired a copy of the slides that EVP of integrated supply chain, Daniel Myers, used during his part of the company presentation, which represented the bulk of the material Mondelez showed at the conference.
As seen in the graphic below, Myers discussed the five key elements of the transformation program, and the financial results the Mondelez expects to achieve from the transformation strategy. Those improvements are also expected to increase the company's operating income percent by a whopping 5 percentage points by 2016, from roughly 14% currently to 19%, an increase of about 30%.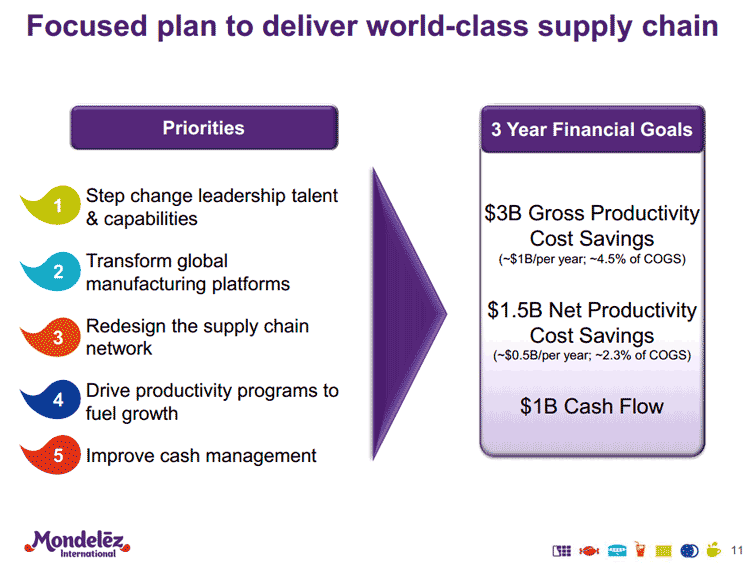 Myers spent a lot of time in his presentation on the dramatic improvement Mondelez is making in its global network of some 170 manufacturing plants, which he said contains many inefficient factories and has too much variability across operations.

As can be seen in the chart below, Mondelez plans to expand its manufacturing capacity by 24% by 2016, and another 28% by 2020, a substantial increase.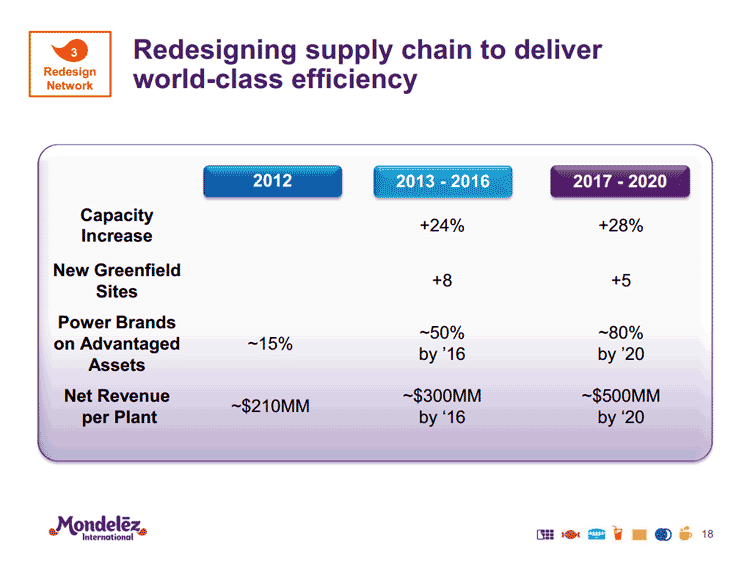 Even more impressive, as the company replaces old manufacturing lines with new ones and builds new greenfield plants, Mondelez will see the percent of its key brands that will be made on world class lines increase from just 15% in 2012 to 50% by 2016 and then to 80% by 2020.
Revenue per plant by that time will more than double, from $210 million in 2012 to about $500 million by 2020, based largely on increased efficiency and throughput.
How is Mondelez juggling so many initiatives at the same time? That is really the billion dollar question.

Any Feedback on our Supply Chain Graphic of the Week? Let us know your thoughts at the Feedback section below.