The improvements in US manufacturing competitiveness and anecdotal evidence of a reshoring trend really haven't shown up in the numbers yet, but on the other hand no one seems to be backing away from those predictions.
That includes the analysts at Boston Consulting Group (BCG), who a couple of years ago were among the first and most aggressive in saying that rising costs in China and other factors could lead to a US manufacturing renaissance.
BCG has recently doubled down, in effect, with new research that says the US' advantages are growing, and that this is likely lead to a surge of exports over the next 5-10 years.
The chart below is taken from this new report, and shows how America's relative manufacturing costs are expected to stack up against four Euro countries, Japan and China.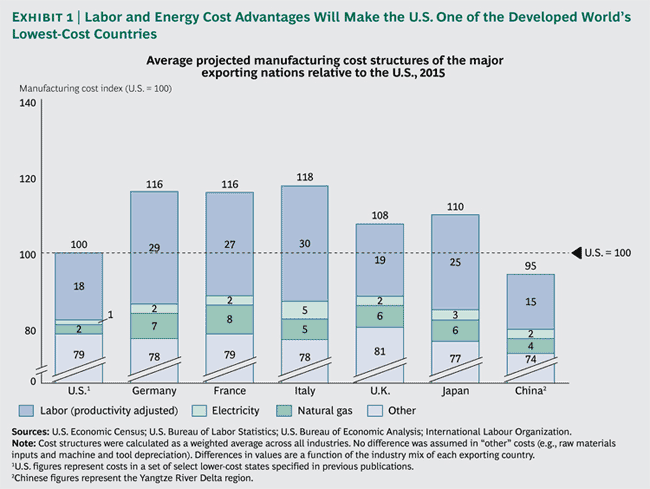 Source: Boston Consulting Group
As can be seen, BCG expects the US to have major cost advantages stemming from lower energy costs and wages, and higher productivity and labor flexibility versus the Euro countries and Japan. BCG also expects the US cost disadvantage versus China will shrink to just 5% or so.
Those comparisons are without factoring in any additional inventory, transportation, risk and other costs factors in sourcing from China.
BCG says the train really is leaving the station, and that there are many companies making decisions to reshore and/or keep production in the US beyond the high profile ones like NCR or Whirpool.
Will it really show up in output numbers and jobs? BCG says Yes, expecting a surge of both around 2015. That is not much more than one year away.
Any Feedback on our Supply Chain Graphic of the Week? Let us know your thoughts at the Feedback section below.