In our review of the 2013 State of Logistics report from Rosalyn Wilson and CSCMP, we went through the breakdown of total US logistics costs, using the report's methodology, in text form (see State of the Logistics Union 2013), but we thought readers might also benefit from a more graphical version.
So we produced the pie chart below, based on this year's data. All costs are in billions of dollars.
US Logistics Cost Breakdown in 2012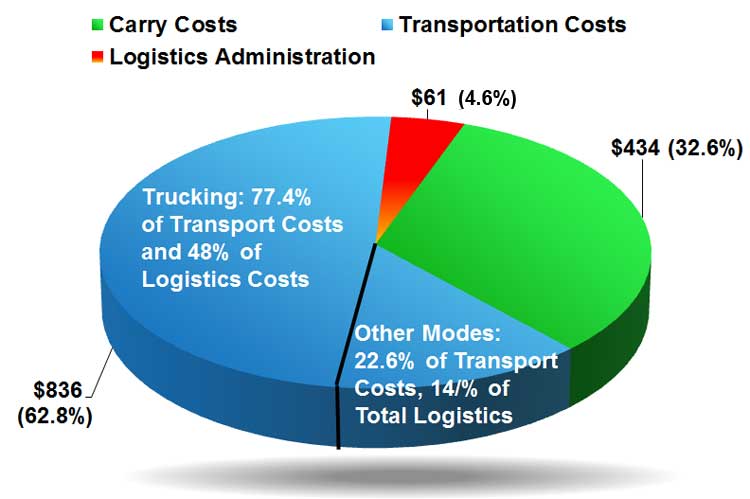 Source: SCDigest, based on Data from State of Logistics 2013 Report
As can be seen, transportation costs dominate, representing 62.8% of total costs. Within that, 77.4% are trucking costs and 22.6% other modes and freight forwarders. That translates into trucking representing 48% of total logistics costs and other modes in total about 14%.
Inventory carrying costs, which include the cost of inventory plus warehousing costs, were 32.6% of total logistics costs. Logistics administration, which includes mostly some IT related expenses not otherwise captured in the other categories, is a small factor at just 4.6% of the total.
Not much changes in these percentages year to year, but we will note trucking lost a half a percentage point to other modes in 2012 versus 2011.
And now you know.
Any Feedback on our Supply Chain Graphic of the Week? Let us know your thoughts at the Feedback button below.