We very much look forward every year to the annual BP Statistical Review of World Energy, the most comprehensive report on matters related to energy use and production that can be found anywhere.
Next week, our TheGreenSupplyChain.com will do its usual full review of the 2013 report, but for this week we provide the graphic below from the report, showing energy consumption by energy source across the globe over time.
Global Energy Consumption by Fuel Type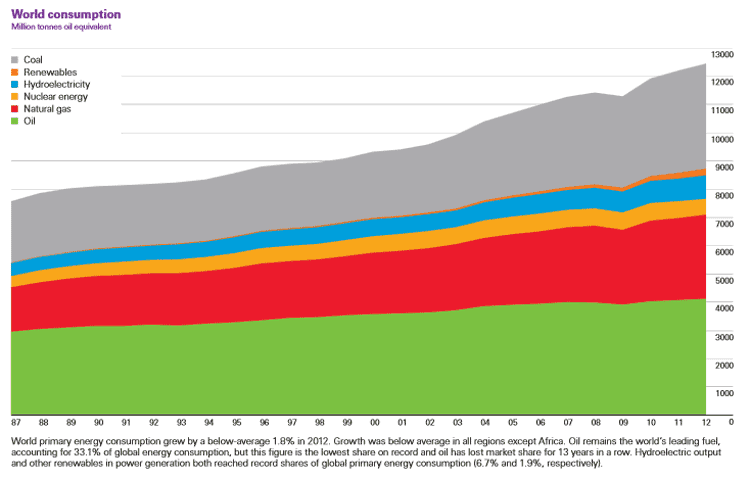 Source: BP Statistical Review of World Energy 2013
As the chart shows, oil remains the top energy source, providing 33.1% of global energy production - though as can be seen, its share has really flatlined in recent years. That percentage also is the lowest share of energy production since BP began tracking this statistic in 1965. (To be clear, the chart shows consumption of energy by source, not market share, meaning that oil's share can be shrinking against others even if its absolute totals are rising slightly).
Conversely, despite the environmental concerns, coal's share has continued to grow, reaching about 30% of total consumption, nipping at oil's heals, up from 29.6% in 2011. Most of that growth came from China, but interestingly, while coal consumption dropped sharply in the US in 2012, it rose in Europe for the third straight year, as natural gas prices rose sharply there.
Renewable sources are growing rapidly, but were just 1.9% of total consumption last year. Still, that is up quite a bit in percentage terms from its 1.6% share in 2011.
Full review of this excellent report in TheGreenSupplyChain.com next week.
Any Feedback on our Supply Chain Graphic of the Week? Let us know your thoughts at the Feedback button below.