Is there any more interesting company generally and with regard to supply chain than Amazon.com?
We think not. Obviously, the company continues to push the envelop with regards to e-fulfillment, along multiple dimensions. It continues to grow at rapid rates, reaching $61 billion in sales in 2012, a figure likely to grow to around $75 billion in 2013. Soon, it will be the second largest US retailer behind Walmart.
Amazon has nearly everyone in the retail sector scared in one way or another, with consultants pitching strategies to the sector that they claim will help retailers avoid being "Amazoned."
That concern likely spread to the grocery industry this week, with news that Amazon is planning to rollout a new AmazonFresh on-line grocery service as a test in Los Angeles and San Fransisco this year, with as many as 20 more markets opened in 2014 if the tests are successful. It has been running a similar service in its home base of Seattle for the past five years. (See Amazon to Make Major Push Into Grocery Business.)
A key advantage that Amazon has is that the stock market is willing to give the company a pass relative to current earnings in the name of revenue growth and future value - a luxury most public companies don't enjoy.
In Q1, for example, net income decreased 37% to just $82 million, despite a rise in sales of 22% to $16 billion. That means net income was just .5% of revenue.
Part of that struggle to profitability has to do with rising fulfillment costs. Those costs do not include shipping expenses, which are included in cost of goods sold, but simply distribution center operations and amortized investments in new DCs, which the company continues to rapidly add.
So rather than fulfillment cost decreasing as a percent of sales, as one would generally expect in a retailer expanding sales at a robust pace, such costs continue to rise, as shown in the graphic below, which shows reported fulfillment costs as a percent of revenue from 2010 to 2012, and then Q1 2013.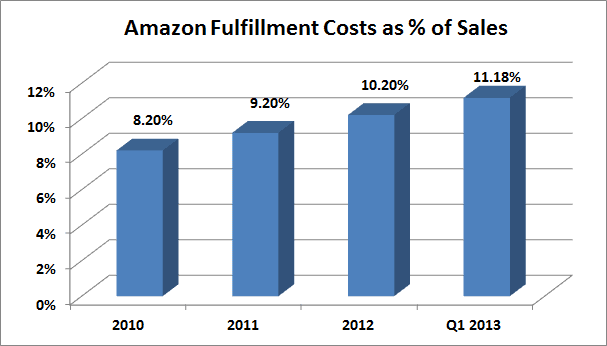 Source: SCDigest Analysis
Those figures actually understate the real costs a bit, as services revenues represents about 17% of Amazon's total sales. Looking at merchandise sales only, Amazon's fulfillment costs were about 13.5%.
We're not quite sure how those number to other e-fulfillment operations, but clearly these numbers are a drag on profitability. But as the DCs capital costs are amortized over time, the cost percentages should decrease - unless Amazon simply never stops building DCs.
Any Feedback on our Supply Chain Graphic of the Week? Let us know your thoughts at the Feedback button below.