As mentioned in SCDigest editor Dan Gilmore's review of the 2013 Warehouse Education & Resource Council's annual conference this week in Dallas, Richard Murphy, president of Murphy Warehouse Company, gave a simply fantastic presentation on the cost, payback, challenges and more from a variety of Green options for distribution centers.
Case in point: the graphic below. The company acquired an existing 350,000 square-foot DC somewhere in Minnesota, and wanted to change the lighting. An analysis began of the options, resulting in the numbers you see here.
The existing sodium lights cost about $96,000 a year to operate. Fluorescent replacements would cost $210,000 to install (lights, fixtures, installation) but drop the operating expense to just about $38,000 per year.
LED's would cost $446,000 to acquire and install, but drop the annual operating expense to just under $19,000 annually.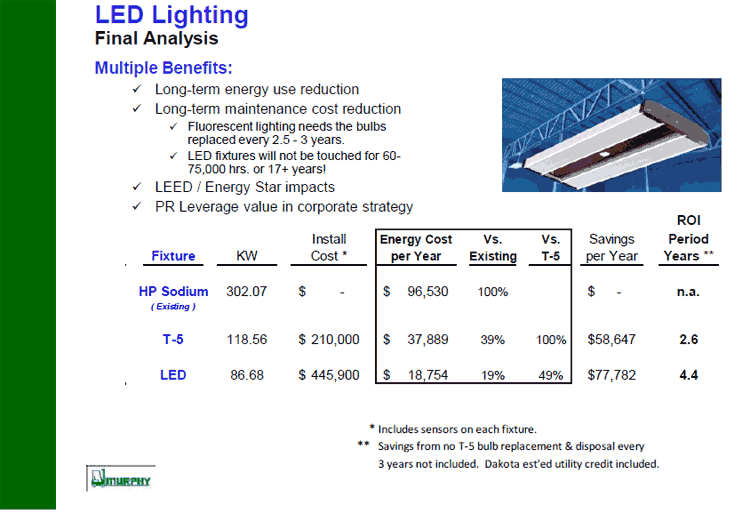 The payback period on the right shows the fluorescents have a full financial return in 2.6 years, versus a 4-year period for the LED's. You could say that math for LEDs does seem to quite add up, and your be right based on just investment and operating costs, but there are still a number of tax and other incentives for investing in LED, reducing the effective cost and the payback period.
Murphy in the end went with the LED solution because he believed it was the right thing to do and it had an acceptable level of payback. He noted he recently spoke to a friend who worked at a large public company, and in a similar situation they went with the fluorescents because of the improved payback period.
More on Murphy's full presentation soon on these pages.


Any Feedback on our Supply Chain Graphic of the Week? Let us know your thoughts at the Feedback button below.