Which are the globe's top 20 container fleets, by TEU capacity?
It was nice of the good ocean shipping industry analysts over at Alphaliner to update us on this data, triggered by the recent news that Hapag-Lloyd and Hamburg Süd are investigating a potential merger.
That would vault Hapag-Lloyd from its current number number 6 position to number 4, as shown in the chart below, moving it passed Evergreen and COSCO.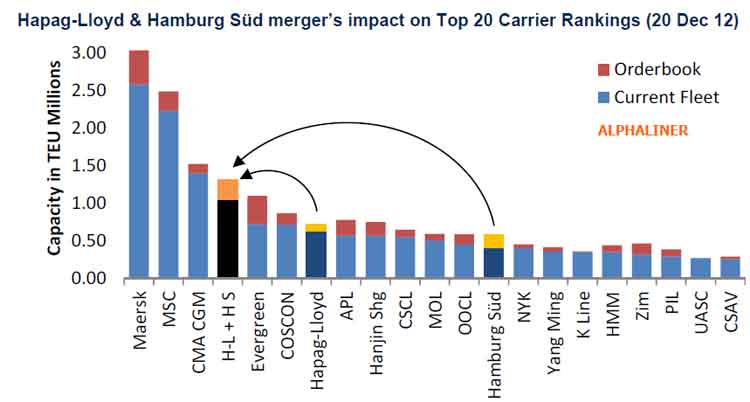 Source: Alphaliner

Of course, Maersk Lines continues to dominate the action, with more than 2.5 million TEU of current capacity, and orders for new ships that will take it near to 3 million TEU soon. That outpaces number 2 MSC by about 20%.
As can be seen in the red "orderbook" figures, carriers continue to order new ships even in the face of widespread over capacity in the industry, generally for large "megaships" that are less expensive to operate on a per container basis.
Any Feedback on our Supply Chain Graphic of the Week? Let us know your thoughts at the Feedback button below.