Big news in the consumer packaged goods sector this week, as food giant ConAgra announced that - on its second attempt - it was going acquire Ralcorp, a maker of private label products for retail, in a deal valued at about $5 billion. (Ralcorp itself was a spinout of Ralston Purina).
This makes an interesting bet by the mostly brand-heavy ConAgra (Hunt's, Banquet, Peter Pan, among many other brands) on the private label market. How these two sides of the business will npw play out will be very interesting to see.
That led us to wonder how private label sales are faring versus branded CPG goods. It certainly seems that many grocers (e.g., Walmart, Kroger) are pushing their in-house brands hard, with much improved quality and aggressive pricing.
By happenstance, the retail researchers at SymphonyIRI Group released a report just this week with fresh data on that. As shown in the graphic below, that report says private label CPG sales have risen to 14.4% of dollar sales and 17.1% of unit sales in 2012, but basically flatlining in the past two years after big increases in share in the first three years of the recession.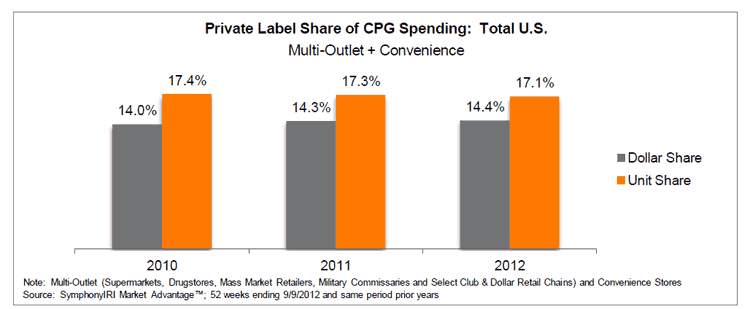 Source: SymphonyIRI
In fact, SymphonyIRI says that national brands are gaining volume share in 40 of the 100 largest CPG categories. That seems different than what we seem to be seeing in the grocery aisle, but the data is based on point-of-sale information, so it must be right.
In the grocery sector specifically, however, the report says private label sales are to 21.8% of total sales, rising .2% over 2011 levels. The data includes convenience store sales in the total numbers, where private sales are just a small fraction of the total.
This will be a major battle area in the next 5 years, we believe. ConAgra has fired an interesting new salvo in that engagement.
By the way, this implies to us that private label goods are on average 18.7% less expensive than branded items (difference of 2.7 percentage points between unit sales and dollar sales percentages, divided by dollar sales percent).
Any Feedback on our Supply Chain Graphic of the Week? Let us know your thoughts at the Feedback button below.