Many if not most supply chain professionals are familiar with the term "control tower," which traditonally has been associated with visibility systems related to international shipping. A few software vendors and 3PLs have even named their solutions with the term.
We're less familiar with using the term and concept for supplier management, but that indeed is what Dr. David Simchi-Levi of MIT and Mike Romeri, CEO of OPS Rules, see as a real opportunity for companies to both reduce risk and improve supply base perfomance. The discussion came as part of an overall broadcast on Advanced Supplier Management, during a videocast this week on our Supply Chain Television Channel. To view the broadcast on-demand, see: Videocast - Advanced Supplier Management.
The concept is illustrated in the graphic below.
A Control Tower for the Supply Base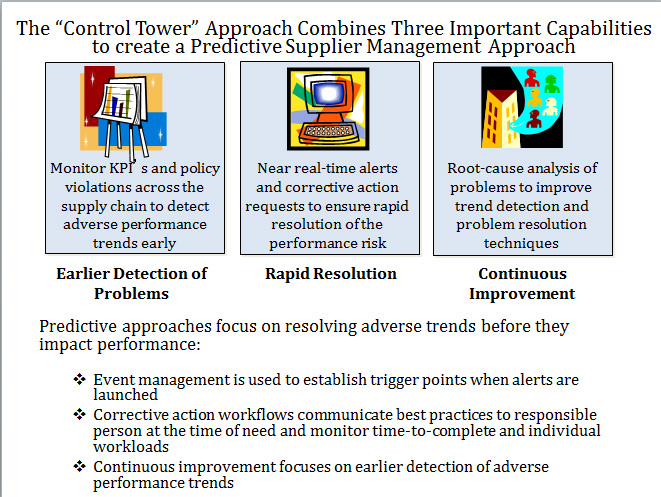 Source: OPS Rules
Though still early in the game, Romeri said a growing number of companies have in fact built supplier control towers of various kinds, bringing in data from a variety of sources combined with event management technologies to provide much earlier warnings about potential supply chain disruptions from a variety of sources, enabling mitigation efforts, among other benefits.
Any Feedback on our Supply Chain Graphic of the Week? Let us know your thoughts at the Feedback button below.