Several weeks ago, we summarized the third report starting in 2007 from the World Bank that rates individial countries on their overall logistics prowess, which it says (correctly) is key to overall econimic success. See Third Logistics Performance Index from the World Bank Puts Singapore at Top of Rankings, While US Jumps to 9th Place.
The LPI compares the trade logistics profiles of 155 countries and rates them on a scale of 1 (worst) to 5 (best). The ratings are based on 6,000 individual country assessments by nearly 1,000 international freight forwarders, who rate the eight foreign countries their company's serve most frequently.
The LPI's six components are:
• The efficiency of the clearance process (speed, simplicity, and predictability of formalities) by border control agencies, including customs.
• The quality of trade- and transport-related infrastructure (ports, railroads, roads, information technology).
• The ease of arranging competitively priced shipments.
• The competence and quality of logistics services (transport operators, customs brokers).
• The ability to track and trace consignments.

• The frequency with which shipments reach the consignee within the scheduled or expected delivery time.
Each of the 155 countries than receives as composite score by averaging the 1-5 ranking across each of the six criteria.
In the original article, we did not have room for the graphic in the report that shows the rankings for all 155 countries included in the 2012 report. You will find that image below, from number 1 Singapore to number 155 Burundi (just where is that, we are trying to remember?).
Logistics Performance Index Rankings 2012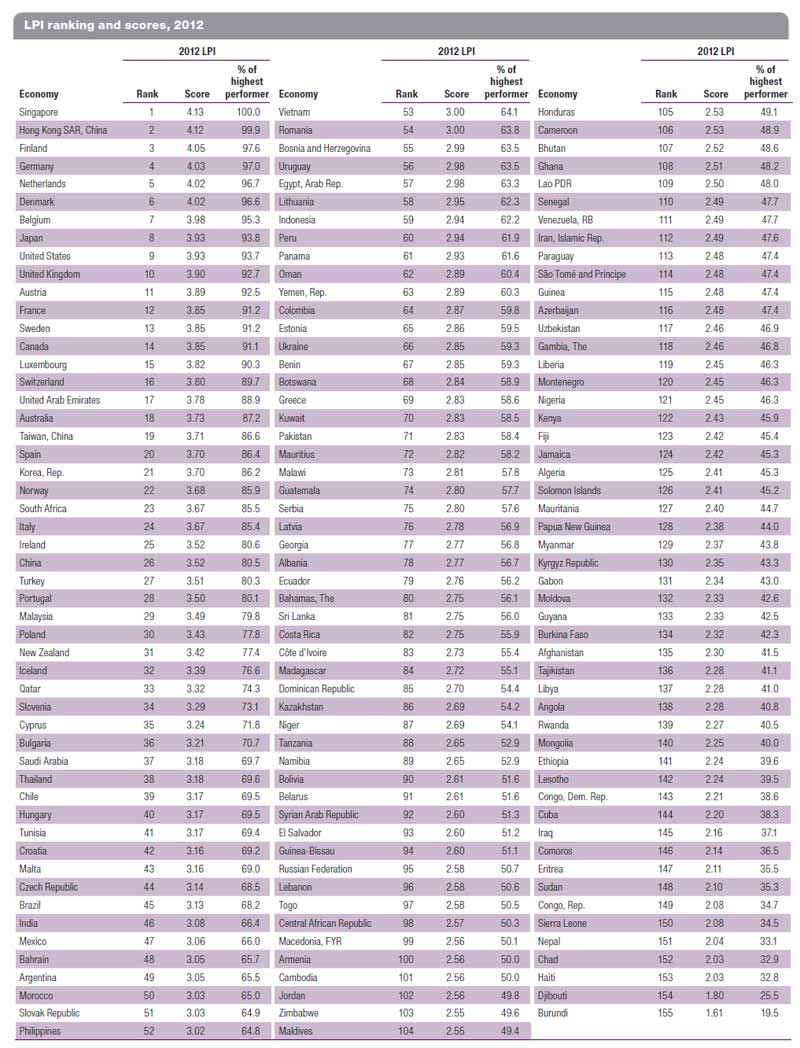 Source: World Bank
The US made a strong move from number 15 in 2010 to cracking the top 10 this year, with an average score of 3.93.
As can be seen, twelve of the top 20 nations are from Europe. Four are from Asia, joined by Canada, the United Arab Emirates (home of logistics hub Dubai City), and Australia, in addition to the US, in the top 20.
Have a reaction to our Supply Chain Graphic of the Week? Send us your comments at the Feedback button below.