Supply Chain Performance Management is a very "hot" thing, with more and more companies paying very close attention to metrics to drive internal alignment and help with the "people side" side of supply chain strategies and initiatives.
But what are the factors involved in developing a comprehensive measurement system for the supply chain?
The graphic below is taken from our recent Supply Chain Digest Letter on Supply Chain Performance Management. It identifies key dimensions of Supply Chain Performance Management, along with some of the critical questions associated with each one. (To download the SCDigest Letter and access other information, please go to our Supply Chain Performance Management Resources Page.)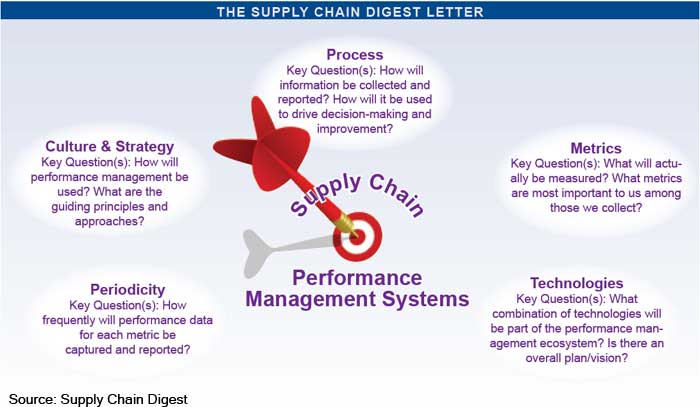 SCDigest has identified 5 core components of a performance management system:
Process: What will be the mechanisms to collect and report data, and how will that data be used in decision-making?
Culture and Strategy: What is the overall approach a company will take in its use of performance data? How closely will metrics be tied to compensation up and down the organization.
Metrics: What are the specific metrics that will be reported, and what is the "hierarchy" of those metrics?
Periodicity: For each metric, how frequently will the measure be reported and reviewed?
Technology: What technologies and systems will be used to manage this? Formal technology approach, or more ad hoc systems?
To date, relatively few companies have really thought all of these components through.
Agree or disagree? What is your perspective? Let us know your thoughts at the Feedback button below.