SCDigest editorial staff
With all the focus today on "metrics" and dashboards, actually building ones that add real value is a difficult exercise, Chevron's Mike Brooks told attendees during an excellent presentation at the CSCMP 2006 conference in San Antonio.
Brooks' challenge was to provide a visual dashboard system that would enable refinery executives to quickly, easily and clearly access supply chain and production information that could help them make decisions and meet operating goals. The principles Brooks has developed, however, offer great guidance for companies in any industry.
There are two real issues in building dashboards:
What information can really drive improved, real-time decision-making?
Understanding that, how can the information be presented in a way that maximizes usefulness?
Many might assume the answer to the first part is relatively easy – but it's not. Brooks noted that in the highly competitive market, with a more real-time aspect to everything we do, "The decisions just keep getting bigger. We are entering the business of 'now.'"
Brooks started the project with several principles. The dashboards had to actually help change and improve decision-making, and as noted above that's harder to get to than many might imagine. Second, he wanted to use visualization up and down the chain of command – in other words, having the information presented as pictures not as "reports." To that end, top executives actually view their dashboards on 40-inch flat screen monitors hung on the wall near their desks.
There were many basic challenges. First, though most refineries used the same core metrics, exactly how those metrics were calculated varied from place to place. A key element of the project, therefore, was getting consensus on the metrics, and normalizing the data so that the information meant the same thing across the business.
"Dirty data" is of course a problem, and something that just has to be wrestled to the ground to make the effort a success.
Brooks put the major part of his design focus on really understanding the executives' decision-making process. "You have to really understand the questions they want answered, and sometimes they may not even be able to easily verbalize it themselves," Brooks added. "Data just by itself doesn't answer those questions."
It took several iterations, but ultimately the projected resulted in a strong success in phase 1, with plans for broadening the scope across other parts of the organization.
An example close to the final result (with drill down capabilities in each area) is provided below: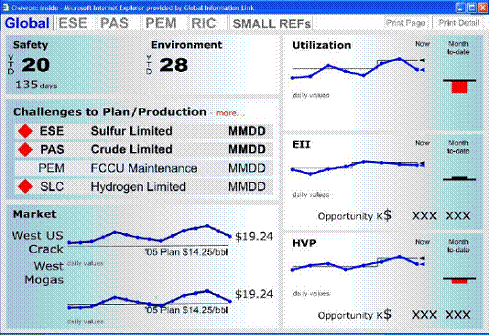 Source: CSCMP 2006 annual conference
In addition to those already cited above, key lessons and guidelines coming from Brooks' and Chevron's experience include:
Get rid of the clutter: most dashboard tools from vendors have all kinds of "overhead" on the screens that add confusion and make it difficult to find and focus on what's really important. "Remove every pixel that doesn't show information" he said.
Pie charts, especially side by side pie charts, and "gauges," really don't communicate data for decision-making effectively.
Work closely with users/execs to ensure the data is truly actionable
Visualization provides maximum impact, but again that doesn't just mean pie or bar charts.
Use very clear metaphors – for example, black means above plan, red means under plan. Gets attention very quickly.
Focus on trends, and key changes over time rather than absolute precision. You are not trying to satisfy the accountants, but improve decisions.
Make the navigation highly simple and intuitive. Strive for a "no nothing" interface.
Focus on "now," not historical data.
We are just scratching the surface of supply chain performance management systems. Chevron is leading the way.
What is your take on Chevron's efforts and guidelines for dashboards? What is the key to determining what information can really drive decision-making? Are we really in the "business of now?" Let us know your thoughts.