"We probably could have rolled out the solution even faster than we did," Gaynor explained, saying a combination of "webinar" type training for local plants, plus software that is intuitive for users, were key to the rapid deployment.
Hybrid Management Model
CONTECH runs a hybrid transportation management model, with "long-haul" movements being managed centrally, and short-haul movements locally, at the plants.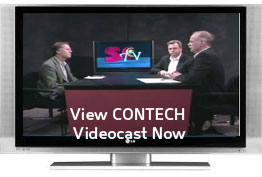 "In each region, we look at common carriers, 3PLs, our private fleet, and do what makes the most sense for that market," Gaynor said. Carrier contracts, however, are generally all managed centrally, even for short-haul carriers, but local managers execute against that for short-haul movements.
The ability of a TMS to support that model, in addition to capabilities to manage its private fleet, was critical to the selection process.
"We are able to handle dedicated contract carriers, broadcast for capacity, negotiated lanes, private fleet, all those in the TMS," Gaynor said, adding that flexibility to do this, supporting multiple tendering models, has been a key to the system's success.
That flexibility has also allowed CONTECH transportation group to take over control of inbound freight management, gaining additional savings that weren't being realized when freight was bundled with product pricing from suppliers.
"We just didn't have the capability to manage inbound previously, so we purchased almost everything on a delivered price basis," Gaynor said. "In addition to lower total supply chain costs, we're now able to support a Lean manufacturing model more easily by having better visibility to inbound shipments."
There are similar opportunities for many companies to take control of inbound freight, says Gene Nusekabel, a solutions manager at Sterling Commerce.
"Key is being able to leverage the transportation data, and being able to show the procurement organization not only how you can take out costs, but also provide better visibility," Nusekabel said.
Leveraging Transportation Data
Gaynor said the information available now in the on-demand TMS platform has helped CONTECH make better decisions throughout its entire supply chain.
For example, he said in some cases, the company has been able to shorten lead times because it has more confidence now in its ability to deliver on time and, in other cases, actually adjust manufacturing or shipping schedules to take advantage of potential transportation savings opportunities.
CONTECH has also found opportunities to link loads within its network, and has started to partner with another shipper to drive savings through "continuous moves" with a single carrier.
"The TMS analytics really drive improved execution," Gaynor says. "We are always looking for continuous improvement. I have an analyst that is charged with constantly looking for how we can improve based on data coming out of the TMS."
He said, for example, the system makes it very easy to find "outliers" across similar types of lanes where there are cost or service issues and attack the root cause of the problem.
"Before, the focus was almost exclusively on 'Did we get the load there on time?'" Gaynor said. "Now, it's 'What can we learn about ourselves?' Now, we see ourselves as a real value-adder in the organization."
What are your thoughts these days on on-demand TMS? Do you have a similar story to the success at CONTECH? Let us know your thoughts at the Feedback button below.
SCDigest is Twittering!
Follow us now at https://twitter.com/scdigest