5. Growing export business: Increasing levels of global trade generally and, more recently, the falling value of the US dollar, have led a surge in export volumes from the US to the rest of the globe. Whatever cost and logistics complexity are faced by domestic parcel shippers, those factors are increased several fold for international shipments.

While perhaps extreme, the annual Georgia Tech "Great Package Race" for global parcel shipments provides an appropriate illustration of this complexity. For example, the range of costs in the contest for a parcel shipped to Somoa from Atlanta ranged from $94.45 from the low-cost carrier to $188.93 – twice as much – for the most expensive.

6. Fragmented parcel processes and automation through multiple departmental solutions: This scenario holds true for a large number of companies today – parcel shipping is managed in multiple places, from the mail room to the distribution center to the plant and more. Often, a wide array of technology support and systems is involved, from almost zero automation to the carrier-provided systems and often a hodge-podge of other local solutions.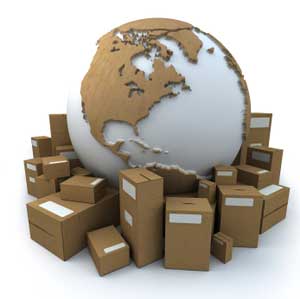 The total savings opportunities from gaining visibility to these volumes across the enterprise and optimizing decisions about the best shipping method can be huge, and often much more than anyone in the company fully understands. Savings in the hundreds of thousands or even millions of dollars per year are not uncommon for large companies.
7. Plans for a new ERP or Warehouse Management System: While many companies understand the benefits of multi-carrier shipping strategies and enabling technology, sometimes the timing never seems quite right to make an operational change.
Clearly, the implementation of a new ERP system, which generally includes order management functionality, or a new WMS can provide the perfect opportunity to also upgrade parcel shipping strategies and support. But keep in mind, it is usually up to the shipper to drive this strategy – the ERP or WMS provider is unlikely to push the analysis itself.
8. Plans for distribution automation: Similar to number 7, the potential for automating the parcel processing process can also provide the right tipping point for looking at multi-carrier solutions – and indeed may require advanced processing capabilities to meet desired throughput levels.
With growing parcel shipping volumes, many companies are finding downstream packing stations to be a bottleneck in fulfillment operations. Automation is one answer, in which an identifying bar code (and maybe soon an RFID tag) is read on a high-speed conveyor line. That triggers a look-up of the order, and a carrier and service decision for that package is made dynamically. After the optimal decision is made, the data is sent to an automatic print-and-apply machine on the conveyor, which prints the correct carrier-compliant label and applies it automatically to the parcel.
9. Little or no "parcel planning": Many companies treat parcel shipping as an execution activity only, missing significant savings from doing a better job of looking at orders earlier in the process and optimizing shipment strategies.
For example, there may be opportunities to "bundle" different packages going to the same destination. There can also be opportunities to evaluate trade-offs between LTL and parcel shipping. And companies with large parcel volumes can also often benefit from "zone skipping" strategies, in which full truckloads of parcel are shipped say to California, and the total cost of the TL freight, plus now lower parcel costs, offers significant savings.
Technology is required to enable this enhanced level of parcel planning, and the savings available from improved planning alone often can cost justify a new solution.
10. Significant vendor inbound or drop shipments: Many companies fail to fully understand or leverage the volumes they are generating from supplier inbound shipments or the increasing trend towards using supplier drop shipments for customer orders.
First, simply getting a handle on the scope of these volumes is important, as they frequently can and should be used as part of the potential business offered to parcel carriers in rate negotiations. But that leverage can only be achieved if the company also controls the final shipping decision, providing vendors for inbound or customer shipments with the routing instructions (carrier and service) as appropriate for the order details and internal or customer shipping requirements. At this point, all the benefits of an optimized, multi-carrier approach well understood on the traditional outbound side of the business also apply.
Many companies, of course, will recognize themselves as having one or, more likely, many of these indicators, making them good candidates to access whether a move to multi-carrier strategies and supporting technology makes good business and financial sense.