Of course, to make this work, the WCS needs to be integrated with the material handling controls/PLCs on one side, and the WMS on the other. However, this type of integration is usually a relatively modest software coding effort. In some cases, certain changes in the configuration of the existing WMS may also be needed, if the WCS takes on more real-time control of the picking process. But generally, it's just a matter of the new WCS matching the existing messaging into and out of the WMS.
Legacy Warehouse Control System Often Way Out of Date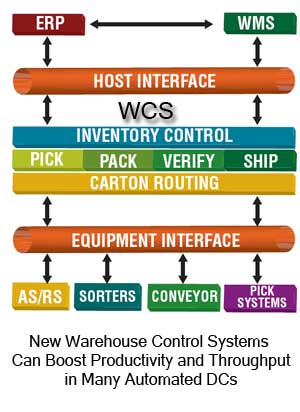 Unless a company has installed a new system and WCS in the past few years, it is likely that the WCS they have in place now is a very custom piece of software that lacks the functionality and configurability of today's more advanced systems.
In many of those older systems, the staff who originally understood how the system worked and was coded have often moved on, leading, at times, to a situation where no one really well understands the system. In those cases, a company sometimes struggles just to maintain the system and keep it running – so that making major improvements that could enhance productivity and throughput is simply not in the cards.
The potential for improvement from a new WCS comes in several primary areas.
In some cases, Hite says, efficiency improvements can be achieved simply as a result of faster system performance.
"We still see situations where cartons are pausing for a couple of seconds at a scanner waiting for the system to respond with the routing," he says.
More often, efficiencies are gained through the increased smarts and functionality that are available in an advanced WCS today, as discussed above. In some cases, a new WCS may achieve the same results that a company would gain by adding a number of additional sort lanes.
In other cases, Hite says, a company may consider modest improvements to the physical system combined with a new WCS to gain even more benefits.
"For example, some of our clients have added a new divert into a pick module to allow "zone skipping" in a pick and pass system," he said.
Regardless of the ultimate approach, for automated DCs looking to make gains in productivity and throughput, considering a new WCS should certainly be on the list of options a company considers.
Have you had success increasing throughput and/or efficiency from upgrading to a new WCS? In what areas did you find improvements? Let us know your thoughts at the Feedback button below.