Hussain Mooraj, a Vice President of Research at AMR Research, agrees.
"Brand owners are challenged at deploying technology to manage the contract manufacturing network," Mooraj told SCDigest. "Most technology solutions, even ERP systems that support contract manufacturing, have the ability to only exchange limited demand/forecast information. Vendors of technology have fallen short in developing tools that can be used by the brand owners to successfully manage contract manufacturer interactions, such as exchange of timely quality and compliance information."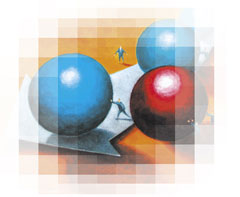 Solutions Starting to Emerge
ERP and traditional supply chain planning vendors recognize the issue and are starting to adjust solutions to meet these new challenges, but at the same time a new group of software providers is emerging to specifically address the visibility, planning and execution challenges of the outsourced manufacturing model. Technology advances such as Service Oriented Architecture (SOA) and on-demand solutions are opening up interesting new possibilities.
For example, Amitive is a relatively new solution provider focused specifically on this space. The company set up shop as a spin-off of Japanese industrial giant Mistsui, which had developed the first generations of the solution to meet the needs of clients of its logistics/supply chain outsourcing business.
One key tenet of Amitive's approach to the problem is that companies need to rethink what drives supply chain performance in the outsourced world.
"When manufacturing is in-house, asset utilization in those plants is a key driver of supply chain decisions," said Sean Rollings, VP of marketing at Amitive. "In an outsourced world, it is much more about product velocity and reducing total cycle times and inventory."
Certainly, balancing supply and demand becomes much different in an outsourced world – and requires different tools to manage. Collaboration, visibility and information with contract manufacturers become critical to supply chain success –often requiring multi-level visibility to the supplier's supplier, for example.
Supply capabilities and lead times across CM's can be dynamic, requiring a different approach than managing captive manufacturing capacities. Amitive argues that a new set of optimization tools that can dynamically "net out" supply and demand levels across CMs and arbitrate elastic supply capabilities are needed to meet this different supply chain scenario.
AMR's Mooraj says that new approaches to system-to-system integration will be key.
"Solutions that help integrate enterprise-level information with operational systems, such as Manufacturing Execution [MES] and lab systems between the brand owners and the contract manufacturers have great potential,'' Mooraj said. "Essentially, it is about bridging the two manufacturing architectures with an information pipe."
Since each company and CM relationship is different, solutions that can easily support development of custom processes or workflows will also be key, something SOA-based systems provide the potential to make much easier.
What is the key to making outsourced manufacturing strategies work? Do current enterprise and planning systems often limit effectiveness? What new capabilities are needed? Let us know your thoughts at the Feedback button below.