SCDigest Editorial Staff
We often read stories about new automation systems – sometimes before they even go live – but few about systems that have been in place for many years. Here, at last, is a good opportunity to understand how automated systems can evolve over time, plus a few great ideas that you may be able to adopt to ensure your system stays healthy and productive for the long term.
SCDigest Says:

One good indication of the success that totes Isotoner has experienced with the system over its 10-year history is that the start of the peak shipping system has been pushed forward about 4 weeks. This is due in part to the confidence that its customers have gained in totes Isotoner's ability to fill orders accurately and to ship on-time.

---

During the summer of 1997, totes, the iconic maker of umbrella and other gear, announced it was buying glove and slipper maker Isotoner from Sara Lee. That would ultimately lead to an innovative, industry-leading plan that would consolidate three non-mechanized DCs into a single, new automated 450,000 sq. ft. facility located just north of Cincinnati. One key to the deal, in fact, was the perceived opportunity to drastically reduce distribution costs in the combined companies, especially on the Isotoner side, where distribution excellence had not been a strong focus.
Once the decision was made, the pressure was on. The DC had to be designed with an imperfect understanding of the Isotoner business, so flexibility was critical. There was also a factor of time. Both totes and Isotoner had hugely seasonal businesses – a significant portion of the volume came in the Christmas season. That meant a new DC had to be running by mid-summer 1998 – or a whole year more would pass before distribution strategies could really be achieved.
Finally, both businesses had a heavy piece-pick volume, and making that efficient would be key to overall system success.
Here's the story of how totes Isotoner made it happen, along with some lessons learned along the way, and how this system, with some evolution, is still running strong 10 years later.
In an interesting side note, the project at totes was led on the vendor side by SCDigest Editor Dan Gilmore and Materials Handling Editor Cliff Holste, both working at the time for Forte Industries. They both recently went back to totes Isotoner 10 years later to see how things had worked out, and to talk to Doug Baker, in 1998 director of engineering and now VP of Operations for totes.
General System Overview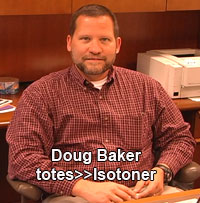 The new DC was outfitted with approximately 35,000 pallet positions, some 5000 case flow lanes for split case picking, a large value-added services area, and an automated shipping sorter with 29 divert lanes.
Shipping was heavy LTL, but with strong use of truckload and parcel as well. Retail customer requirements mandated UCC-128 labeling on almost all cases, carton content labels on split cases, and EDI Advanced Ship Notices. Many items also required customer-specific price ticketing. Compliance-related fines had been a big problem at Isotoner – reducing those substantially was a key goal of the new system.
The DC required a new WMS, from Manhattan Associates, and comprehensive use of RF terminals. It included automatic print and apply for UCC-128 labels, using two labelers to provide redundancy in case one had mechanical problems or required a new roll of labels or ribbon, etc.
But the real heart of this system was the innovative design of the split case picking area.
(Distribution and Materials Handling Article - Continued Below)