Green Manufacturing Framework
In his report, Sustainable Manufacturing: Remaking Today's Manufacturing Enterprise for Tomorrow's Economy, Gorbach offers an interesting framework for manufacturers to use when developing sustainability strategies. (See illustration below.)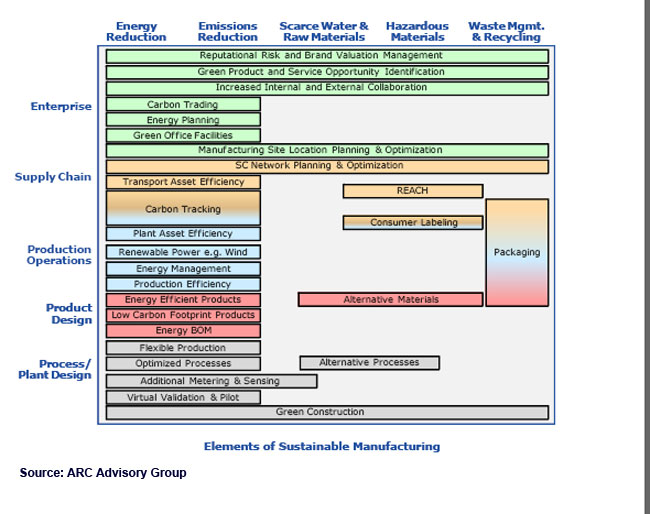 Gorbach also offers the following list of areas to focus on to improve sustainability in manufacturing:
Energy Planning and Visibility: Establish a "high-resolution view" of current energy consumption and emissions, and establish specific goals and targets – perhaps using activity-based, costing-type analysis to account for contribution to emissions for products and processes.
Energy Reduction: Substantially new approaches to energy usage may be required. Nissan, for example, has implemented real-time energy management systems in its Japanese plants, and introduced the concept of "energy unit" as a control mechanism.
Go Lean: Lean techniques already offer an array of benefits to manufacturers, but should also remove carbon emissions by reducing non-value-added activities.
Plant and Transportation Asset Efficiency: Companies will need to review current plant and transportation asset energy efficiency and make decisions with regard to upgrading, replacing or retiring those assets.
IT Asset Rationalization: There may be many opportunities to reduce plant energy consumption by rationalizing, virtualizing, de-duplicating, or otherwise reconfiguring IT assets in the factory.
Alternative Power Options: Increasing numbers of companies are looking at alternative power sources such as wind, solar, hydro-electric or geo-thermal. Some companies can even sell power back to the grid.
Water Management: This is likely to become increasingly important, especially in the Western US and other areas of relative water scarcity. Water conservation, recycling, and waste processing will become urgent issues for some manufacturers.
Waste Management: Wal-Mart is already looking at waste levels in its supplier base. Manufacturers will need to plan, monitor, document and improve solid and non-solid waste generation, including the activities of suppliers.
Asset Lifecycle Management: Energy consumption and carbon emissions will become increasingly important in asset lifecycle analysis. For example, many electric-powered assets may be running inefficiently or idling excessively.
Production Efficiency: "Production efficiency" now takes on a new dimension and meaning. New scheduling algorithms may explicitly include energy consumption and carbon emissions in developing optimal factory schedules.
Supply Chain Network Design: Just as with supply chain costs, the majority of a company's carbon footprint will be locked-in by its supply chain network design. Energy and carbon emissions will be increasingly important factors in the network analysis.
"Management must establish priorities, make the required trade-offs, and implement effective management control systems," Gorbach concludes. "Such systems will incorporate real-time visibility, shared targets [across functions and partners] and accountability."
What would you add to this Green manufacturing framework? How can companies effectively balance Sustainability with cost and other pressures? Let us know your thoughts at the Feedback button below.