---
Change Management Issues are the Leading Cause of the J-Curve Effect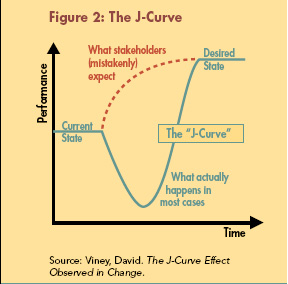 "Wouldn't it be great," Kinneberg writes, "if you had a method to think through the change, anticipate peoples' reactions to the change, and have the tools necessary for helping people see the value and embrace the change?"
Numerous Models Exist
Many models for dealing with change have been developed over the years, some specifically in a business context, others at a more personal level that have, in turn, been adapted for business use.
Kotter himself offered a model that has received widespread adoption. Other models include one from Todd Jick, another Harvard academic, and an influential model developed by GE called the Change Acceleration Process (CAP). While all the models are similar in nature, perhaps not surprisingly, the GE CAP model really focused on execution.
The article nearly learns from these previous efforts, and provides a composite model that takes the best from all of them, which it calls the "Ideal Change Management Model."
The model prescribes an 8-step model, as follows:
Identifying the need and urgency for change (the why): Fact-based analysis on problems and opportunities in the marketplace or with respect to competition, customer needs, or regulatory actions.
Creating the Vision (the what): Detailing the "future state."
Communicating (20% on what, 80% on why): Development of a communication plan used throughout the project lifecycle that addresses the timing of messages, documents the level of detail for each audience type, and provides a strong, consistent meaning.
Assembling the team (who will do the work): How many, where are they located, the right mix of skills and commitment, etc.
Empowering for success (eliminating obstacles, aligning accountability): Executive steering committees are often used; ensuring the initiative doesn't fail for lack of resources, sponsorship, etc.
Mobilizing commitment (assessment, analysis, readiness, capability, training): Identify friends, foes, and agnostics towards the new program/strategy; if there are individuals who just won't support the change, they may have to be let go.
Architecting, Designing, & Measuring (the how and metrics): Align the people with the systems of recruiting, training, measuring, and rewarding to drive the new behaviors needed to support the change.
Celebrating short-term wins: Recognize accomplishments and milestones – but don't break out the Champaign too soon.
All told, Kinneberg offers an excellent overview of change management issues and solutions, and the model providers well adds to the tool set available to supply chain managers.
In an environment in which the ability to react quickly to market and competitive changes, the ability to get the organization to move faster than the competition is perhaps the key to sustainable success, as GE realized when it built the CAP model under Jack Welch in the 1990s.
Do you have a favorite change management model? How do you like the one offered by Kinneberg? Any other thoughts, stories, or perspectives on change management? Let us know your thoughts at the feedback button below.