With the dramatic rise in offshoring in recent years, there remains a "dirty little secret" - child labor is still commonplace in many developing countries and particular industy sectors.
The graphic below was taken from a recent Forbes magazine cover story on this issue. Many of the "low cost" countries still use very high percentages of child labor, according to a number of sources.
"Every time you buy an imported handmade carpet, an embroidered pair of jeans, a beaded purse, a decorated box or a soccer ball there's a good chance you're acquiring something fashioned by a child," the Forbes piece says.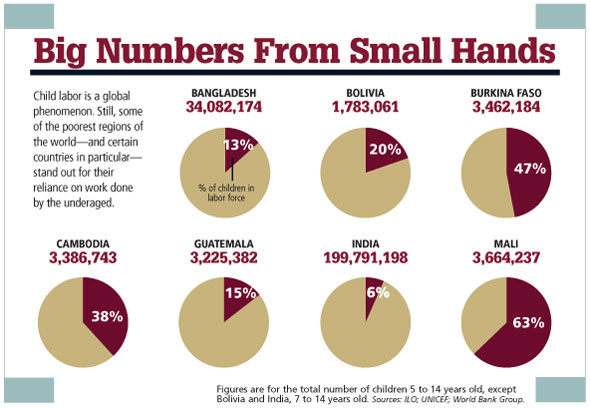 Source: Forbes Magazine
Should Western companies impose their views of appropriate child labor practices on other economies, especially for farming and family businesses? That's a trickier question than some might admit. Nonetheless, this issue is likely to get greater attention in the next few years.
Agree or disagree? What is your perspective? Let us know your thoughts at the Feedback button below.