Earlier this week, we somewhat belatedly reported on the PowerRankings studyfrom Kantar Retail, released in late 2011, which annually surveys consumer packageg goods and food/beverage manufacturers on the performance of leading grocery, mass merchant and drug store retailers across a wide range and areas, and retailers on the performance of the manufacturers.
One of those areas is supply chain. This week, we reported on the top CPG manufacturing supply chains, where once again Procter & Gamble came out on top - but its lead is narrowing. See The Top CPG Supply Chains for 2011.
Next week, we will have the top retail supply chains from the Kantar Survey.
But we thought it would also be fun here to show the list of which chains manufacturers expect to be the top "power retailers" over the next 15 years.
The rankings for this year, based on the percentage of respondents naming a given retailer as one of the top three for the question, is shown below:
Who Will be the Power Retailers in Next 15 Years?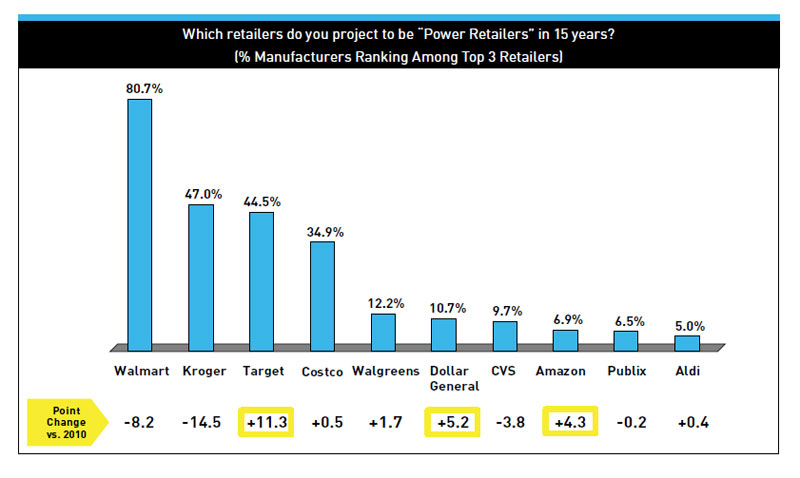 Source: Kantar Retail
Walmart not unexpectedly came in at number 1 by wide margin - but with a score of 80, at least 20% of manufactuers must think it is going to lose some clout over the next decade and a half.
Rival Target, however, made a major jump, rising by 11.3 percentage points year over year - while Kroger took a major tumble, for reasons that just aren't clear.
And while Amazon.com's inclusion at one level is a little odd, given the tiny amount of revenue it drives from consumer packaged goods versus electronics, media, etc., our bet is that Amazon overall will emerge as perhaps the most formidable competitor Walmart will face overall in the retail sector - if it isn't already.
Have a comment? Send it at the Feedback button below.