There could be a new shooting war very soon, on some scale - is your supply chain ready?

For the past month or so I have been delivering trip reports from the usual Fall season conferences. I am going to take a sharp turn in a very different direction this week, even though I did attend and speak at a good conference at Penn State University last week on Omni-channel commerce. I am will hold back that report for another week, other than to note most of the crowd there politely but noticeably booed when I announced my Ohio State Buckeyes connections. That was before OSU's solid thumping of PSU last Saturday.

Tensions are escalating rapidly, and we could have an incident between the US and China in just a few weeks, if not days.

---

But I digress.

When most of us think of a Pacific island, perhaps pleasant images of Tahiti or Fiji or Gilligan's Island run through our heads. But today, we need to think of different kinds of islands - ones that just could have huge supply chain implications.
The first of those would be something called the Spratly Islands in the South China Sea. The second would be the unusual concept of an artificial island, created out of sand in the middle of the ocean. And China, of course, is at the center of both controversies.
China is claiming ownership of the Spratly Islands, a collection of small landforms that as the map below shows are far, far from the Chinese mainland. Vietnam and The Philippines naturally dispute these claims, but lack of course the military might to defend their rights.
By what logic China should claim ownership of these islands I have no idea, but that is what has happened over the last few years. But it gets worse. China has also claimed ownership of seven small rock formations in the same area, around each of which it has now constructed artificial islands, bringing in mountains of sand to create 3000 acres of territory, to which it is adding ports, airstrips, military type facilities and more.
The theory seems to be: Why battle the claims out for years in international courts, when we can just build and occupy the fake new islands and claim a fait accompli.
Why would China want to do this? Part of it is just China's ever present drive to assert what it sees as its historical rights, but it is also no doubt a strategic play too. First, building up a strong naval presence there would certainly give China a powerful position to assert its authority or use its military should real conflict breakout in the region.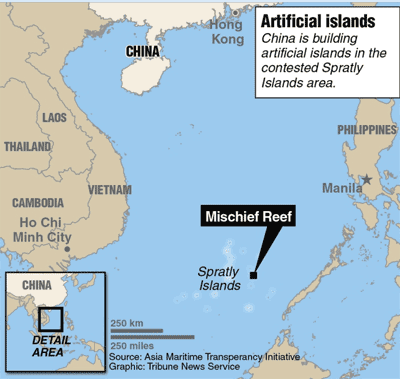 It would also potentially give China commercial control of sea lanes for the busiest area of container ship traffic in the world. Would China start using that control to charge foreign vessels for using its territory? China could also claim to control the airspace smack dab in the middle of the South China Sea?
Thanks to Jeff Smith of The Diplomat, I learned that the UN Convention on the Law of the Sea (UNCLOS) does not prohibit land reclamation such as China is pursuing, but Article 60 bars states from claiming expanded rights for artificial islands built atop what were previously just rocks and low-tide elevations. Rather than the expansive 12-nautical mile territorial sea and 200 nm exclusive economic zone granted to "natural" islands, UNCLOS stipulates that artificial islands are only entitled to the rights enjoyed by the original feature before land reclamation, which isn't much.
While China has not explicitly stated what it believes its rights would be, other statements seem to make it clear it would not recognize the limited UN rights cited above.
Tensions are escalating rapidly, and we could have an incident between the US and China in just a few weeks, if not days.
As China proceeded with its island building efforts, many US analysts began to call for "Freedom of Navigation Operations" (FONOPS) around the artificial islands. The FONOP program, in operation since 1979, involves sailing and flying ships and planes through waters and airspace to challenge (and make clear America does not recognize) illegal or excessive territorial claims.
China, to put it mildly, is not in favor of that program.
US Defense Secretary Ashton Carter has repeatedly asserted that the US military "will fly, sail, and operate wherever international law allows." Yet still no FONOPS have yet been ordered - while China's rhetoric has grown more confrontational.

On May 25, China's Foreign Ministry warned that FONOPS were "highly likely to cause miscalculation and untoward incidents in the waters and airspace" and were "utterly dangerous and irresponsible." Around the same time, the state controlled Global Times warned that: "If the United States' bottom line is that China has to halt its [land reclamation] activities, then a U.S.-China war is inevitable in the South China Sea."

On Oct. 15, the Global Times then wrote that China "should be ready to launch countermeasures according to Washington's level of provocation. If the U.S. adopts an aggressive approach it will be a breach of China's bottom line, and China will not sit idly by."
The same day, Admiral Yang Yi warned the China would deliver a "head-on blow" to any foreign forces "violating" China's sovereignty. There have been many more similar warnings and declarations.

This confrontation "is momentous, a defining power struggle between the reigning world power and the rising one," Peter Hartcher wrote last week in the Sydney Morning Herald. "The history of our region is being written in each decision from Washington and Beijing."

This, in short, is a very, very, big and dangerous deal.

So is the US likely to soon sail within Chinese claimed waters? It looks so, as it inevitably must. Hartcher also says that the US Navy is now reportedly planning to sail right into the 12 nautical mile zone that defines territorial limits around the Spratly Islands, defying Chinese claims and asserting freedom of navigation for international vessels.

Folks, this is going to happen. Almost any day.

So what transpires then?

1. China could loudly complain, but take no real action.
2. China could confront US Naval ships, "escorting" them through the waters.
3. China could first warn the US, and then start firing on US vessels if they do not leave the territory.

Given its many public statements on its response to such a challenge, number 1 seems highly unlikely to me. I would hope China would not be so headstrong that it goes for number 3, leaving my guess we see some variation of number 2.
But that of course would further escalate tensions, and lead to months/years of the same scenario repeating itself, which seems likely to inevitably lead to number 3 in the end. Or does America just decide to complain but do nothing provocative?
What happens upon option 3? I have no idea. Perhaps a smallish skirmish leads to some form of diplomatic talks where a resolution is eventually reached. But my guess China will never be willing to give up its claims, though it might agree to allow navigation of its water and air space. For now.
All this, BTW, in the context of the just finalized Trans-Pacific Partnership free trade agreement between the US and 11 other Asian nations, one that notably left China out of the mix. China initially strong opposed the pact, but has been more positive about it lately.

Would China really risk severely harming its Western export golden goose for the sake of a few ersatz islands far from its mainland shore? Most analysts agree China intends to assert its place as the superpower of Asia and achieve some form of hegemony over countries in the region. At some point, it will need to move things to another level to achieve that aim.

If your supply chain is dependent on China or other countries in the region, or growing in China is key to your strategic plan, you sure better keep your eyes focused to this one. Let's pray we don't see a shooting war, but many are worried.
On another bit of cheery news, UK's The Telegraph reported this week that Russia is collapsing economically, and may soon be out of its oil money reserves. What will a cornered Putin do then? Not pleasant to think about either, though with fewer supply chain implications, I think, though getting the price of oil back up is Russia's only path out of its misery.
There are supply chain risks, and there are supply chain risks. The China island dispute is of a class we haven't seen in a long time.

What do you think of these South China Sea island conflict? What do you expect to happen? What should companies be doing, if anything? Let us know your thoughts at the Feedback button (email) or section (web form) below.