We've naturally enough put a lot of focus on global transportation over the years, given its criticality to overall globalization success on both the buy and sell sides.

Some general observations:

(1) Obviously, most companies have become much better at the practices over the past say five years, yet my sense is many are still behind the curve in process and especially technology versus the importance to the business of being excellent at global logistics.

Both Brasca and IMB's Heil agree it is essential that companies develop a formal "global operating model" - a definition of what processes and functions are performed globally, regionally and locally

---

(2) Clearly, many companies are understaffed in the global transportation teams. I recently spoke to a multi-billion dollar life sciences logistics manager, who told me that his group was just himself and one other, and "we're stretched to just get stuff from point A to point B somewhere near in-time. We really have no time for strategic thinking and analysis." I have heard similar sentiments from others.
(3) Naturally, the above staffing scenario, lack of deep internal knowledge on the ins and outs of global logistics, the continued move towards outsourcing generally and more have led many companies to outsource most or all of most global transportation processes to 3PLs. Greg Aimi of Gartner noted in his recent new Magic Quadrant on global 3PLs that many shippers want to consolidate their logistics service providers into fewer, more truly global and multi-service partners. But as we'll detail below, one expert says other companies are pulling some processes back from 3PLs and managing internally.
With that as a prelude, we've had a few recent events relative to global transportation. First was a major benchmark study and then supporting Videocast on global transportation SCDigest did with IBM, and second a very interesting Videocast just this week with JDA's Fab Brasca, a very knowledgeable and articulate expert on all things transportation. I would like to provide key highlights of each.
It's clear that companies are in the process of moving to truly global thinking on transportation management - but most still have a long way to go. As shown in the chart below, 41% of companies operating globally say they are already thinking in a truly global fashion for transportation - but that leaves 56% who say they are in the early stages of that transformation, or have made little progress.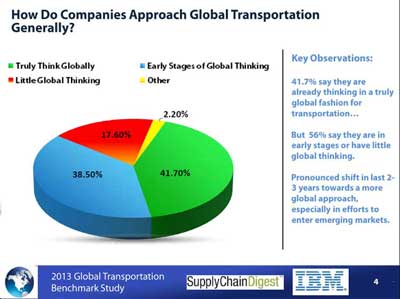 I have written many times about what I call "the 50% problem" - the tendency of companies to consistently overrate their performance in different areas, when by mathematical definition half of every group must be below average. So when I see data that does not show that upward bias, it really gets my attention.

And so it is with another question from the study, which asked shippers how they stood in terms of global transportation process and technology excellence.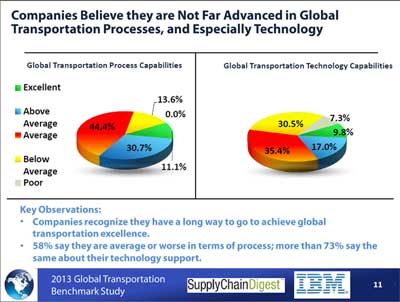 As you can see above, companies certainly did not overrate themselves in these areas. In terms of processes, just 11% considered themselves excellence, and about 30% above average. The preponderance (44%) considered themselves just average, and almost 14% below average. Where would you place your capabilities?

The self-rankings were even worse on the technology side, where only 10% said they were excellent and just 17% above average. I am not surprised at all there - in part because it is only recently that a few TMS providers have really been able to plan and execute multi-leg, multi-mode global moves as a single integrated shipment, a thus few shippers really have such capabilities yet. Full benchmark report is here, on-demand videocast with IBM's knowledgeable Walter Heil here.
JDA's Brasca had a number of interesting things to say on global transportation in the fast pace discussion he and I had this week. Among them are that he sees a small but growing number of companies bringing some previously outsourced transportation processes back in house.
Part of that, he says, is the increasing visibility that companies can achieve on their own from "control tower" type technologies, and with that visibility can come increased control. A big driver - more agility in global logistics operations when a company pulls some of that control in-house.
In the Q&A session, I asked Brasca if this trend of bringing formerly outsourced logistics processes back in-house was more theoretic, based on what can now be achieved, or if it was really happening.

"Absolutely" it is happening, Brasca said, noting he sees a change from where it seems companies either largely outsourced global transportation management or they did most in-house to a "hybrid" approach where companies look hard at where in-sourcing can provide real leverage, control and agility and where 3PLs can best deliver value, and often outsourcing the pieces where there is a high level of complexity.
Both Brasca and IMB's Heil agree it is essential that companies develop a formal "global operating model" - a definition of what processes and functions are performed globally, regionally and locally, including obviously in-source and outsource decisions. I presented this concept at a conference a year or so ago, and a manager from Ingersoll Rand came up afterwards and said the industrial giant was in the process of doing exactly this exercise.

I will note that such decisions obviously depend in part on what technical capabilities a company has at each level, and that of course this model must be reviewed and revised on something like an annual basis. I don't believe a high percentage of companies are really doing that yet.

Brasca argued for a concept he called a "global transportation template," which would include such an operating model, but go beyond that to include how transportation teams around the world should be structured, definition of best practices and which of them can be used globally, and more. I liked the idea a lot. The Videocast with Brasca can be found here.

This was all very good stuff, and I encourage you to take a look.

I will end with just a note that I feel like the industry's "knowledge base" in terms of global transportation management is lacking compared to say domestic transportation management. Someone needs to "write the book." Maybe in my spare time.

Any reaction to these insights in global transportation? Where do you think companies stand in terms of process and technology? Do you see companies pulling some work back in-house? Let us know your thoughts at the Feedback button (email) or section (web form) below.