US exports fared pretty well, but were as usual swamped by imports, especially from – of course – China, even as China's total export growth slowed substantially in 2012.

---

Last week, I summarized key themes and trends in supply chain and logistics for 2012. As promise then, this week I will step back and review the year in numbers and charts. I am confident you will find it interesting.
Before that, I will note a visual timeline of the top news stories and events of 2012 is nicely illustrated in our Supply Chain Graphic of the Week. Earlier this week, we also did a summary of the top Green Supply Chain stories of 2012, which I must say is quite good. Thanks to the crack staff. I think you will enjoy both of these as well.

All right, let's get right to it, starting with the economy. US GDP once again grew, but weakly, coming in at 2%, 1.3% and 3.1% for the first three quarters respectively. It will probably finish the year up a little over 2%, compared with a very meager 1.8% in 2011 and 2.4% in 2010, all well below historical recovery rates. We seem to simply be stuck in this "new normal" of slow growth with the frequent fear of slipping back, but we are now just used to it. It does seem normal now.
That weakness was reflected in the ISM Purchasing Managers Index (which tracks manufacturing activity) numbers for the year, which started out fairly strong and then slipped as the year progressed. As shown in the graphic below, the June reading fell below the 50 mark that separates expansion from contraction for the first time in 34 months, since some time in 2009, but that started a string of four of the next seven months also seeing manufacturing shrink, with the measure hovering just under or above 50 mark for the rest of the year. Not good.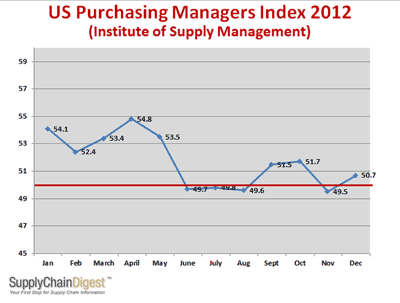 Same pattern with overall US manufacturing output. As shown in the figure below, the numbers started out reasonably strong early in the year, but faded through the rest of 2012, ending basically flat on the year. This index is based on 2007 levels, so that means now, five years later, US manufacturing is still producing about 6 percent fewer goods then we did then. It has indeed been a long slog back from the deep recession that bottomed in mid-2009.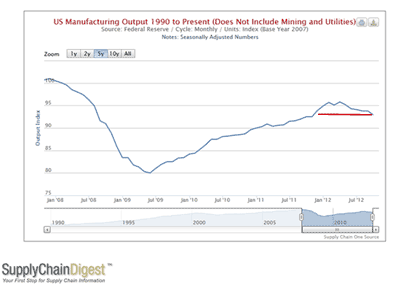 A companion chart (find here) from the Federal Reserve data shows manufacturing capacity utilization, which fell to a historic low of about 65% in June 2009, from which slowly but steadily climbed its way back ever since, coming darn close to reaching its 40-year average of 78.8 early in the year. It then fell slightly as the year went on, ending at 76.6, down from 77.4 in January. Those couple of points of utilization from the long run average actually would have an impact on GDP, jobs and wages. In late 1994, utilization reached 86.4%. Total US manufacturing capacity grew just 1.5% in the 12 months ending in November.
Oil prices started the year at just over $97 for West Texas Intermediate and ended the year down about 6%, at $91.79. As usual though, it was a wild ride, with prices hitting about $110 in March (and diesel prices rising at an even faster rate), before plummeting to $81.72 in late June, a fall of $25% from the top. From that bottom, it ended the year about 12% up. A few forecasters are calling for a big drop this year, maybe all the way to $50 oil. We'll see.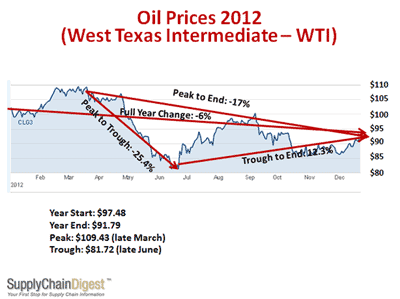 We like the chart below which we created earlier this year that compares the Cass Line Haul Price Index with the ATA's Freight Tonnage Index. The bottom line is that it was mostly a flat year for rates and volume, with the ATA index (based on 2000 levels) almost exactly where it started, at 118.7. (As a note, that means on average truck freight volumes in the US have grown just 1.44% per year since 2000.)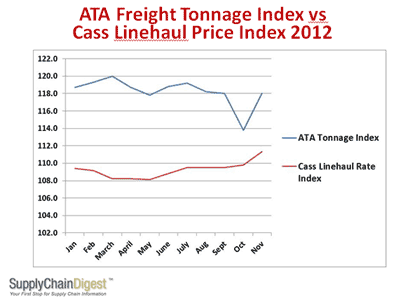 The Cass numbers say truckload rates went up about 3% on the year despite those flat volumes, but that is only due to a November spike of sorts, which may be an anomaly. Other than that they were flat. The year ended with this measure saying rates are up about 11% over 2005 levels, the base year. I will note the large TL carriers we follow generally said their rates were up 3% or so during most of the year. Profits were generally strong, but with weakness starting to show in Q3. Meanwhile, the four large publicly traded rail carriers consistently said that core rates were up 4-6% every quarter, and profits were very strong.
The growth of international trade volumes generally and into the US specifically was down. Through November, total imports into the US reached 15.19 million TEUs, which equates to a 4.2% increase versus the same point in 2011, but that is a growth rate well below the heady days before the recession.

US exports fared pretty well, but were as usual swamped by imports, especially from – of course – China, even as China's total export growth slowed substantially in 2012. The chart below tells the sad but true tale: US imports from China exceeded 2011 in every month but August, and in 2012 will easily exceed the record $295 billion deficit in goods trade set last year when the final numbers are in. (Note: November numbers were just released this morning, up another $29 billion to $290 billion for the year.)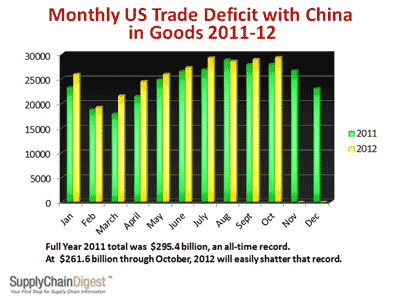 The World Trade Organization recently cut its estimate for global trade expansion to 2.5% from 3.7% and scaled back its 2013 growth estimate to 4.5% from 5.6%. That will likely put the 2012 level below the rate of global GDP growth, a rarity. Many see a multi-year slowdown in global trade.

Retail sales excluding autos and parts were up 4.9% in 2012, though it hardly felt like it. That includes inflation, by the way, so knock about 2 percentage points off that for true volume gains. Ecommerce sales were up 11.9% through November, according to the Census Bureau, though other sources say they rose more 15% or so. Certainly in some categories they did. All told, the Census Bureau says, ecommerce represents about 10.7% of total retail sales ($388 billion out of $2.6 trillion thru November, but the latter figure includes gasoline and restaurant sales).

I have more, but that's it for here. Now we all know what the heck happened last year. I have put all the charts in one handy pdf document, which is here: 2012 Supply Chain Year in Charts.


Anything in these numbers and charts surprise you? Do you have any data to add to our mix? Let us know your thoughts at the Feedback button (email) or section below.