I looked at the calendar this week, and realized I had only three of these columns left in 2012. Since the last two are committed (our annual No Blah Blah Blah issue on the best presentations I saw in 2012 that will run next week, and something special for Christmas the week after that), I had to pick among a few good options for today's piece.
Ultimately, tying in a bit to the season, I decided write on my supply chain Christmas wish list for 2012. I offer a number of my own below, and managed to solicit some additional wishes from a few supply chain luminaries to add to the discussion. We encourage you to send your supply chain wishes at the end of this article.

Too many consultants are just focused on the process. They would do themselves and their clients a favor if they retained the detail.

---

I must confess that while my original intention was to offer these in a very positive vein, in a few cases upon initial read they started to border on griping. I revised a couple of them a bit to better fit the holiday spirit, but some Scrooge-ness remains. My apologies.
So here is my supply chain Christmas wish list, in the order I thought of them.
I wish that more companies contributed presentations and case studies at industry conferences: Here is the reality: there is a clear 80-20 rule here, or more like 90-10, in which a small percentage of total companies wind up carrying the majority of the industry load.
You don't have to go to many events to figure out who those companies are. From my perspective, those companies include The Limited Brands, Intel, Procter & Gamble (though P&G did not present at this year's CSCMP - and I believe I know why), Kraft (especially the last few years), International Paper (mostly relative to transportation), Caterpillar, and Pepsico, who I would say has been the most generous of all in recent years. There are others - if you have a candidate or want to toot your own horn, please let me know.
We all owe these frequent contributors a debt of gratitude, and we really couldn't have these conferences without them. We need more companies in the boat.

I wish most supply chain academic research was more useful: We have a lot of really smart supply chain and logistics academics, and I know many of them personally. But far too few of them are using those talents to produce research that is of practical use to supply chain professionals. It is often almost unreadable except to other academics, if then.

Yes, I understand this is far from unique to supply chain, and indeed is probably the status in virtually every academic discipline. I also get the whole "public or perish" thing in academia. Yet, we have a decent set of examples of supply chain academics who do consistently produce research work that is highly useful to the rest of us. Those include David Simchi-Levi and Chris Caplice of MIT, John Bartholdi and Vinod Singhal of Georgia Tech, Hau Lee of Stanford, the late Tom Mentzer of the University of Tennessee, Kevin Gue of Auburn, and great folks like Bud Lelonde and the late Don Bowersox in the past. Who am I missing?
John Langley of Penn State recently told me that at some (but not all) supply chain departments an academic would actually get more credit for tenure or promotion for some abstruse paper in a journal none of us know or would want to read than for an article that was published in the Harvard Business Review. This is crazy. I discussed this topic with Dr. Bowersox once a few years go, and he told he knew of one excellent academic who wasn't hired at a prestigious supply chain program because his research was deemed too "applied" - meaning practical. We can do better.
I wish after all this time Warehouse Management Systems implementations were better: As some of you may know, a lot of my supply chain roots are in WMS, and I have done a few implementations myself in the past. Now I will freely state the WMS is uniquely hard to make work, due to the need to synchronize the moving and dynamic physical flows of goods with the logical information flows - and that is not easy.
But ironically, too many WMS deployments involve more pain than they need to have even as the software bugs that used to plague projects years ago are largely gone. I know why this is, but am going to save that for another day. Don't get me wrong, the trend is definitely positive, but slower than it should be. Again, we can do better.
I wish more consultants retained "hard knowledge" from their client engagements: OK, this is the one that will surely get me in the most hot water (happy to take the angry emails, but please remember the season). But I am just surprised that a lot of consultants seem to not take very much away from each client engagement.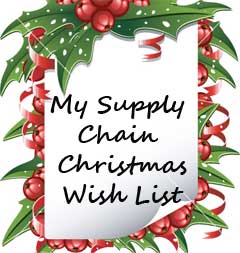 Chris Gopal, now at IBM, gave me the term "hard knowledge" for this skill set a few years ago, and I like that distinction, in contrast obviously to "soft knowledge" that characterizes too many consultants. Let me just say, as an example, that I have spoken with consultants who were involved for instance in a multi-month Transportation Management System selection project, and when I asked them to detail the functional differences between the three final candidates, all I received were high-level descriptions that anyone in the know could have probably said without going through the selection project
I can say this with some authority given my time as an industry analyst, where I was expected to know a lot more than that without the privilege of going through the far more revealing process of a software selection.

Too many consultants are just focused on the process. They would do themselves and their clients a favor if they retained more detail.
I wish natural gas-powered trucks would really take off: It is more than about logistics. It will transform our economy, to the better. Please Santa.

I have many more, but wanted to save room for the supply chain wishes of a few other supply chain gurus I greatly respect.

My friend Gene Tyndall of Tompkins International offered this:

I wish that supply chain leaders would be more confident and advanced in presenting their value to CEOs and boards: After years of working hard to persuade "the world" that supply chains are among the top 3 strategic weapons a company possesses, there is still misunderstanding and under-appreciation of SCM prevalent in all industry segments. Misunderstanding because the prevailing view continues to be that supply chains are only about logistics. Under-appreciation because operating cost reduction is the only value most CEOs and boards see. Supply chains drive shareholder value: operating margins, capital efficiency, and profitable growth. Why isn't this more fully understood?
Here is the nice wish from CSCMP CEO Rick Blasgen:

I wish the disciplines of logistics and supply chain management were as core as other business disciplines in high schools and even grade schools: My son was a senior in high school last year here in the Chicago area. Toward the end of his year, one of his business classes would bring in senior leaders from Chicago-based companies to talk about careers. Leaders from Finance, Sales, Marketing, and IT all addressed the class. Of course I asked: What about supply chain management? His perplexed look said it all. We need to get this dynamic, ever-changing and globally demanding discipline further down into our educational system as a primary, long term career opportunity it is.
From Mike Regan of TrazAct Technologies and a prominent force on the transportation scene:
I wish Supply Chain and Logistics professionals would start asking the "what if" questions on a more routine basis: For example, "What if Santa brings me a lump of coal this year because I failed to ask the what if questions and left my company's supply chain exposed to unforeseen events?"

Had I been more willing to ask the what if questions, I might have considered how the shutdown of the LA and Long Beach ports in December would effect my supply chain. Or I might ask, "What if the predictions about how the upcoming changes in the Hours of Service Rules will affect capacity come true, and I can't find truck to move my products in the third and fourth quarters of 2013?"


All good stuff. Would love to hear any of your supply chain Christmas wishes too.


Any reaction to any of these supply chain Christmas wishes? Do you have any wishes to add? Let us know your thoughts at the Feedback button (email) or section below.