From SCDigest's On-Target E-Magazine

- Sept, 11, 2013 -
Supply Chain News: The Complex Challenges of Designing an Automated Distribution Center


Peapod Decides to Build New Northeast DC, but Finding the Right Level of Automation is Tricky; In the End, a Design that Adds Automation but Stays within Reduced Budget
SCDigest Editorial Staff

Considering a new automated distribution center? There can be many operational and financial rewards at the end, but it's smart to well understand the many complexities involved in facility design and approval that logistics managers and executives may face in getting there.

That was clearly one of the takeways in an excellent presentation this week by Dalen Mathys-Cook of on-line grocer Peapod and Paul Huppertz, a consultant at The Progress Group, which assisted the retailer with its design for a new DC to support the Northeast market. The two told their story this week at the Material Handling and Logistics Conference in Park City, UT.


SCDigest Says:

One important lesson learned, Mathys-Cook added, was that it is critical to gain a deep understanding of how the budgeting and approval process works within your company.

What Do You Say?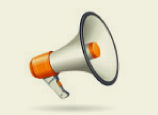 Somewhat under the radar, Peapod has been successfully expanding its business in terms of both top line revenue and number of markets served. Peapod has well penetrated its home market of Chicago, and now also operates in the New York City and New Jersey areas as well as some areas of the Mid-Atlantic.

Its distribution and logistics requirements are challenging and complex. Customers place on-line orders across a very wide number of SKUs, and are given two-hour delivery windows for the following day. Delivery trucks of course have to be loaded by order and route, with a small picking and staging window (about four hours) to get the first wave of trucks loaded each night. (Mathys-Cook says Peapod is also experimenting with same-day delivery.)

That core complexity is exacerbated by the storage handling needs of different classes of products. Peapod carries larger, more bulky products such as pet food or charcoal all the way to frozen foods that must are subject to "cold chain" requirements from DC to customer delivery. It actually has several different areas for refrigerated space, because some produce stores better at 41 degrees while others are best say at 36 degrees.

In fact, a Peapod DC might have some nine different storage and picking zones from which product must be merged to consolidate a customer order, each with its own handling characteristics, volumes and SKU profiles.

At its flagship Chicago distribution center, picking and replenishment processes are manual, with downstream sortation of picked cartons and totes to enable consolidation for loading.

In the New York-area market, however, picking is primarily today performed in the back of local Stop & Shop stores, which like Peabody are owned by Ahold, in an area Peapod calls "WareRooms."

When the company decided a few years ago that its strategy would be to significantly expand the number of SKUs it carried in additon to tthe overall growth expected in in the region, it became clear that the current fulfillment processes in the Northeast would no longer cut it. A new dedicated distribution center would be needed.

But how large should the facility be? Peapod logistics executives wanted to consider automating what they could in the new operation to improve throughput capabilities and reduce cost per unit in this notoriously low margin sector, but what was the right level of such automation? What would be the best places to invest assuming the capital budget was fixed, as it almost always is?

These of course are the types of questions every distribution automation project faces, but perhaps made even more challenging to answer given all of Peapod's requirements and constraints.

Peapod and The Progress Group decided to evaluate each pick area using a high/medium/low approach to material handling automation, exploring what the options were and how those would intersect with throughput goals, capital expenditures required, and ROI. The effort would also identify the pros and cons of each level of automation, and its impact on DC complexity, flexibility for the future, and ergonomics.

"As we added levels of automation, the question was can we gain enough incremental benefit to justify the investment," Huppertz said.

One early challenge was that there was no real forecast for growth in the thousands of new SKUs expected to be added over time, so Huppertz said they just had to extrapolate from the data they did have on existing SKUs as best they could. He noted that they did have pretty good numbers on productivity rates for the more manual approach from both Peapod's Chicago DC as well as some Ahold facilities in Europe.

Obviously, estimates of rates, equipment costs, implementation costs and other data had to be developed for the medium and high options - no small task, especially when the effort involved multiple picking areas.

At a high level, the "low" option involved basically what Peapod was currently doing in its Chicago DC, picking into cartons and totes using a "pick and pass" type approach in any individual pick area. When complete, the carton/tote is taken by conveyor to a sorter for delivery to the proper staging area.
The medium level approach selected for more detailed analysis was a use of automated replenishment of pick faces using "multi-shuttle" technology from Dematic. Picking would be semi-automated using what Huppertz called a "put wall," where pickers place items into a series "cubby holes" by order, which when an order is complete are then manually moved into cartons or totes for delivery to the sorter.
Put Wall System from Dematic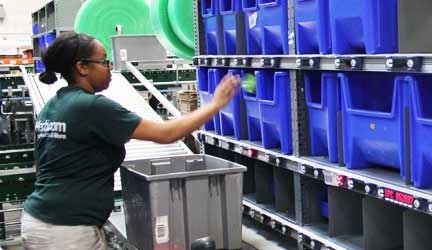 The "high" option involved a full good-to-picker (GTP) approach, in which multi-shuttles would deliver SKUs for an order to pickers, where the picker would then place items into cartons by order, after which the multi-shuttle then whisks away to go to another picker station or back to storage, and the process continues.



(Distribution/Materials Handling Story Continues Below )