Gilmore: What do you see as some key trends in how companies today are managing supply chain performance?
Pribula: We are seeing an increasing number of companies using metrics and scorecards for workforce incentive programs and to identify gaps and opportunities for improvement. Some companies have formed operations teams that meet regularly (on company time) to look at recent performance and examine alternatives for streamlining and process improvement. Others have taken things a step further by using a WMS to feed real-time performance statistics and dashboards to strategically-placed, large panel displays in the plant or warehouse.
The use of metrics is no longer internally focused. Taking the lead from major retailers, progressive companies are now using metrics to measure supplier and inbound and outbound carrier performance. Finally, it won't be long before the initiative triggered by the 800-pound gorilla in Bentonville for supplier carbon footprinting and performance measurement will be adopted by other corporations.
Gilmore: How has globalization impacted the types of metrics and reporting systems companies need to implement?
Pribula Says:

Few companies are able to dispassionately measure performance across their domestic and international supply chains. A third party may be the best alternative here, because they can objectively review and broker the collaborative processes and metrics so critical to success.

---
What do you say?
Send us your comments here
Pribula: Measuring performance across an extended supply chain grows in complexity with the number of participants and their willingness and ability to share critical data in timely fashion, indicating a need for much tighter collaboration between providers, such as shippers, brokers, carriers, forwarders and 3PL's, and customers.
International terms of sale determine when the products come under the control of the buyer and impact the degree to which companies can manage and measure delivery performance. Given the right metrics, total landed cost tools and supply chain visibility and event management software can help control these processes.
Gilmore: What do you see as some best practices in this area?
Pribula: Some companies are developing much closer collaboration between internal functions such as purchasing, marketing, logistics and finance to look at end-to-end metrics around performance and cost. This avoids the piecemeal approach that can lead to the inability to actually measure the corporate-wide impact of supply chain decisions.
Another is building capabilities to receive timely shipment and delivery feedback that empowers buyers, manufacturing schedulers and inventory management personnel whose decisions are dependent upon actual supply chain performance.
Finally, the use of metrics to assess the impact on overall supply chain effectiveness of such programs as selection of inland ports and distribution centers nearer to end markets and the use of rail as opposed to trucking and air.
Gilmore: How can a company best assess where it is in terms of performance management?
Pribula: Today, there is a wealth of resources that publish data that can be used for peer group benchmarking. But, you really have to use caution we advise in matching your numbers with others from these kinds of sources. They can be used as a high-level litmus test to obtain a rough fix on where you stand, but not much beyond that. The challenge with drilling deeper is that these sources typically don't contain data on peer group infrastructure components and staffing that constrain or fuel performance improvement.
The reality is that no one knows how well their organization is actually doing better than those charged with actually doing the work – at least intuitively! Accordingly, we recommend that companies invest their time in identifying which metrics best serve achievement of corporate objectives, how they do so, how a given metric impacts others, how to deploy and engage internal and external resources to use them and what process, technology and systems changes can do to improve overall performance. Also, companies should not overlook process and work flow mapping to identify opportunities for improvement. Oftentimes, a routing change or tweak here or there can produce significant benefits with little or no investment.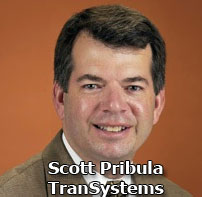 Gilmore: What can companies do in the short and long term to improve supply chain results thru improved supply chain performance management?
Pribula: Well, I have a lot of ideas there. We have a formal process for doing this well, which works like this:
Identify those key supply chain performance goals and associated metrics that will best contribute to meeting corporate objectives.
Illustrate/map how achievement of each performance goal will facilitate meeting corporate objectives.
Calculate current performance for each metric.
Analyze the interrelationships between metrics and run "what if" scenarios to determine not only the best mix of metrics, but also the optimal levels of performance for each metric when aggregated.
Examine process, technology and systems changes that could improve performance in each area to be measured.
Develop costs and assess potential return.
Establish potential "to be" goals for each metric.
Rerun "what if' scenarios and adjust "to be" goals as necessary.
Identify data sources, calculations, frequency and timing for performance reporting.
Identify target audiences, formats and delivery methods for performance reporting.
Meet with affected internal organizations and trading partners to review, modify and subsequently confirm program content, requirements, costs, responsibilities and commitments.
Launch program.
Regularly audit results and impact, adjusting as necessary to stay on target.
Clearly, the foregoing list represents a considerable amount of work, but the dividends in terms of operational visibility and the leverage it provides for performance optimization are significant. Users may want to take a phased approach to execution, focusing initially on internal operations before moving on to their extended supply chains.
Finally, few companies are able to dispassionately measure performance across their domestic and international supply chains. A third party may be the best alternative here, not only because they do not have a stake in the outcome, but also, in that they are not involved in the supply chain transactions, they can objectively review and broker the collaborative processes and metrics so critical to success.
Agree or disgree with our guest expert's perspective? What would you add? Let us know your thoughts for publication in the SCDigest newsletter Feedback section, and on the web site. Upon request, comments will be posted with the respondent's name or company withheld.