July

The MIT Technology Review reports that researchers from the University of Sheffield in the UK may have developed a breakthrough in 3D printing technology. The system replaces the slow and expensive laser system used in 3D printers today with an infrared lamp and an ink-jet print head that could be 10 to 100 times faster than current methods, and that could even be cost competitive with injection molding for making millions of small, complex parts at a time. HP is working on similar technology.

The US Federal Reserve changes its baseline year for measuring US manufacturing output from 2007 to 2012, meaning average production in 2012 is given an index score of 100. Interestingly, 2007 production was actually greater than 2012 levels. With the new baseline, US monthly production of late has been at an average score of about 106, or 6 percent above 2012.

Contract manufacturer Flextronics announces new real-time supply chain dashboard that sets a new standard. Under a solution the company is calling Flex Pulse, Flextronics can deliver a broad range of supply chain data to large interactive touch-screen displays in factories, as well as desktop computers, tablets or mobile devices, including one massive display at its headquarters. The system is meant to be decentralized, putting power in local managers, and features powerful drill down capabilities.

August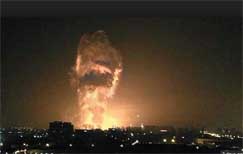 A massive and spectacular explosion and fire occurs at a port complex in Tianjin, China - likely from poorly managed storage at a chemicals warehouse, causing a major supply chain disruption and highlighting yet another form of supply chain risk that needs to be accounted for in mitigation strategies.

After a major investigation, the New York Times publishes article highly critical of the culture at Amazon.com, saying it is cut throat, with employees being asked to work ridiculous amounts of hours and encouraged to call the bosses of peers to complain about a colleague's performance. Also tells stories of employees with health issues basically being run out of the company. Founder Jeff Bezos sends company email saying "this is not the Amazon I know," but promises to investigate.

ERP software company Infor acquires Global Trade Management software provider GT Nexus in a major move that says a lot about Infor's supply chain intentions.

China surprisingly devalues its Yuan currency about 3% against the US dollar, hoping to boost exports in its wobbling economy, sending global markets into turmoil.
September

Howard Abramson, former publisher and editorial director of the American Trucking Associations' Transport Topics magazine and having a long career covering transportation, accuses the trucking industry of being a deadly one badly in need of regulatory reform in op-ed column in New York Times. Critics note overall truck deaths down sharply over past decade, and that the Abramson figures include many deaths for which the trucker was not at fault.
October

Rather strangely, news that Walmart is backing off its "Made in USA" program, as letter to company from the Federal Trade Commission notes Walmart has already agreed to mostly end such product labeling. This controversy started earlier in the year when some consumer groups charged that many such designations at Walmart were inaccurate. This issue highlights that there are no real standards for what Made in USA means, and some states have their own rules.
November

News that sports apparel maker Under Armour is embracing new regional manufacturing strategy that will involve producing products in the US, under a strategy the company calls Project Glory. Producing in the US will "reduce lead times and time in transit so the consumer gets what they want more quickly, more efficiently, and get better products," a company exec says. We'll see.

The US Purchasing Managers Index from the Institute for Supply Manager falls below the 50 mark that separates expansion from contraction for the first time in 35 months, with a score of 48.6. The December scores is also below 50, at 48.2.
December
With great fanfare, a global climate deal of sorts is reached by nearly 200 nations at the UN climate summit in Paris, with many pledges to reduce CO2 emissions by various amounts in coming years.

But the pledges are voluntary, not legally binding, and will primarily be enforced by "peer pressure" as countries are required to report back on their progress - and potential new reduction targets - every five years.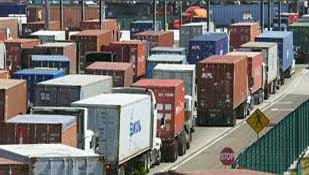 The US at long last passes new five-year Highway bill. Infrastructure spending rises marginally, basically in line with inflation, far below what many hoped for. Bill does not allow either heavier or long trucks, as many shippers had hoped for. No change either to current gas or diesel taxes, which haven't risen since 1993, and some question whether the money is really there for the new spending. Bill does include reform of the Federal Motor Carrier Safety Administration's Carrier Safety Accountability program, changes much desired by carrier groups.

Amazon reported to be in talks to lease 20 cargo planes from Boeing, with other reports that Amazon is likely behind four air cargo flights leaving daily from the old DHL/Airborne air hub in Wilmington, OH, all towards building its own air cargo capability and lessen dependence on UPS/FedEx/USPS.

What did we miss in our 2015 supply chain timeline? Let us know your thoughts at the Feedback section (email) or button below.

SCDigest is Twittering!
Follow us now at https://twitter.com/scdigest