What companies have the top top supply chains in the retail sector among grocery chains, mass merchandisers, drug and club stores?
Well as usual, the analysts at Kantar Retail once again tried to answer that question at the end of 2012, picking up the work in the annual PoweRankings report that was started many years ago by Cannondale Associates, which Kantar acquired a few years ago.
SCDigest Says:

One manufacturer said "Costco is the best I work with in terms of stripping costs out of the supply chain process. In particular, their importing of goods from A-PAC [Asia-Pacific]."

---

The full report covers a number of company performance measures for both consumer goods manufacturers and retailers, including such areas as brand power, marketing programs, sales teams, overall business fundamentals, and more. Supply chain management is one of those categories included in the survey.
The rankings for this year, as always, were developed through the interesting methodology of asking retailers to rate manufacturers on each of these categories, and manufacturers to rank retailers on a similar set of attributes. Most major CPG companies and retailers participate, with some 400 respondents in total across both groups.
Both manufacturers and retailers are from the consumer packaged goods, food and beverage areas. That means manufacturers in such categories as apparel/soft goods, electronics, hard goods, etc. are not included. Similarly, the participating retailers are drawn exclusively from sectors such as mass merchandise, traditional grocery, warehouse clubs, and drug store chains that focus on consumer packaged goods sales. Department and most speciality stores are not part of the pool.
The scores represent the percentage of respondents that place a given manufacturer or retailer as having one of the top three supply chains in the industry.
Last week, we looked at the consumer packaged goods results, where Procter & Gamble held on for first place once again (Which Consumer Package Goods Companies had the Best Supply Chains for 2012?). This week, we publish the retail list.
Not surprisingly, Walmart once again led the way, as it has for many years running, with more than 90% again this year naming its supply chain as one of the top 3 (we would love to talk to the 8% who did not to learn why).
Perhaps surprising to sum, Cosco surged 3.3 percentage points to tie Kroger for number 2, each with scores of 28.3%, more than 60 percentage points behind Walmart, and also moving it ahead of now number 4 Target, which fell to 27%.
There was then a big drop off for number 5 Publix, which scored 16.1% and then another big drop to just 7.6% for sixth place finisher HEB.


Top Retail Supply Chains for 2012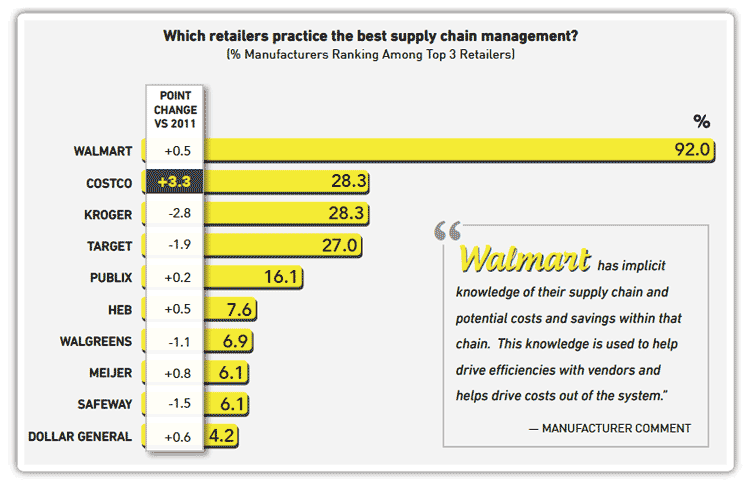 Source: Kantar Retail

There was only one change in the names in the top 10 this year, with CVS, number 9 for 2011, falling off the list, replaced by number 10 Dollar General.
(Supply Chain Trends and Issues Article - Continued Below)