The Times said that in 2005, Cicero had detailed the bribery practices to company lawyer Munich, and then repeated then to the Times in recent months. His account implicated another current senior Walmart executive, Eduardo Castro-Wright, then in charge of Walmart Mexico, and later Michael Duke's primary rival for the CEO job after Scott retired. Castro-Wright has previously announced he will retire from the company this summer.
Cicero says use of the bribes soared after Castro-Wright took over as head of Mexican operations in 2002. The strategy, Cicero says, was to build hundreds of new stores so fast that competitors would not have time to react. The bribes got zoning maps change, and environmental objections eliminated. Permits that typically took months to process magically materialized in days.

As a result, Walmart was able to populate stores in Mexico far faster than the normal process would take others, leading today to 2000 Walmart stores in Mexico and a dominant market position today.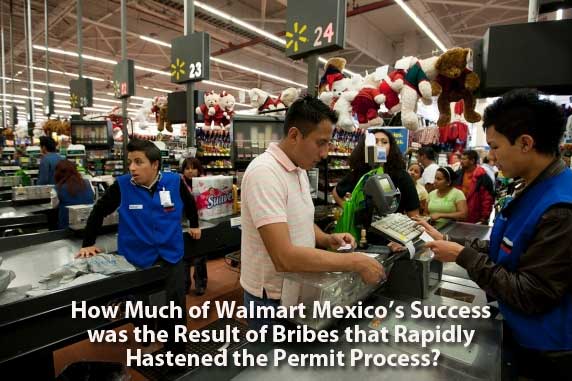 Investigation Protocol Ordered Changed by Lee Scott
After the initial allegations, Walmart put Joseph Lewis, a former FBI agent in charge in internal investigations, to look into what had happened. However, his tough and relentless approach soon angered many executives in the company, especially in Mexico.
"It's a Mexican issue; it's better to let it be a Mexican response," one former Walmart employee told the Times was the general mindset many company executives were operating under at the time.
Soon, CEO Scott ordered a change in the "protocol" for internal investigations that left business units more in charge of addressing issues in their own divisions. Most of the investigative work on the bribery allegations was taken away from Lewis and given to a Mexican official that had been implicated in the practices, according to the Times.
In just a few weeks, that official produced a report from Mexico saying the charges were inaccurate.
"That conclusion, his report explained, was largely based on the denials of his fellow executives. Not one "mentioned having ordered or given bribes to government authorities," he wrote," said the Times. The official's report neglected to mention his own implication in the allegations.
Walmart Mexico officials also then tried to implicate Cicero himself, saying he had been siphoning off most of the funds and payments that appeared to be questionable.
And that pretty much ended matters, until the Times article this week.
What Could Happen from Here?
"If these allegations are true, it is not a reflection of who we are or what we stand for," said Walmart spokesman, David Tovar on the company's web site. "We are deeply concerned by these allegations and are working aggressively to determine what happened."
In a column on The Atlantic magazine web site, Ben Heineman Jr., a senior fellow at Harvard Law School and expert on corporate governance, says that any of the following could happen as a result of the allegations:
• Investigation of criminal or civil violations in Mexico by the Justice Department or the Securities and Exchange Commission under the U.S. Foreign Corrupt Practices Act (FCPA), which prohibits bribery of foreign officials and falsification of records. This investigation could expand to Walmart activities in other countries.
• Investigation by Mexican authorities of allegedly widespread Walmart bribes and other irregularities. Such an inquiry will have to overcome political hurdles because so many officials may have been involved, and because Walmart is one of Mexico's largest employers (it has more than 200,000 Mexican employees).
• A new, robust internal investigation by Walmart (according to the article, it started a new inquiry in December after learning of the Times' reporting, but its scope is unclear). It is hard to imagine, after this story, that the Walmart board of directors can avoid appointing an outside law firm and other forensic experts to examine what happened both with respect to underlying bribery/falsification of records and to rustication of the inquiry back to Mexico.
Additionally, it is possible that the SEC could get involved under the Sarbanes-Oxley legislation and requirements relative to financial reporting. If this happens, Walmart CEO Duke loses almost all control of what happens from there and the SEC will only work with the company's audit committee of the board of directors, according to Jim Cramer on CNBC this morning.
The full Times article is here, though how long it will remain open to non-subscribers is not clear: Vast Mexican Bribery Case Hushed-Up by Walmart after Top-Level Struggle.
Walmart stock was down 5% Monday at midday on the story, though the broader markets were also down sharply.
.
What is your take on this alleged bribery and cover-up scandal? Do you think it will have any real impact on the company? Let us know your thoughts at the Feedback section below.
SCDigest is Twittering!
Follow us now at https://twitter.com/scdigest