SCDigest Says:

Many wonder in the publishing industry, however, wonder if there is any real future for hardcopy business-to-business trade publications in any sector, supply chain included, given cost and advertising dynamics

.

---

At one level, the news to those in the know was not that surprising, but the impact seems seismic nonetheless, as Reed Business Information (RBI), a division of British information giant Reed Elsevier, announced it was closing the last 23 of its remain US trade publications, which included some of the most recognized magazine names in the industry:
Supply Chain Management Review
Modern Materials Handling
Logistics Management
Purchasing
Material Handling Product News
RBI had been trying to sell its trade publication group for more than a year, amid a brutally tough advertising environment generally during the recession and the transition of advertising dollars from hardcopy print publications to the web, further crimping the bottom lines of hardcopy publishers. Rising mailing costs are another challenge for hardcopy magazines profits.
Unable to find a buyer for the whole group, RBI later announced it would go ahead and try to sell the publications in the unit in individual pieces or small groups of magazines, and was successful in unloading a number of titles. However, on Friday, RBI announced it was closing all the unsold titles, which included the four magazines in the supply chain group (Supply Chain Management Review, Modern Materials Handling, Logistics Management and Material Handling Product News), plus Purchasing magazine.
Later in the day, all of the affected publication announced the closings on their web sites.
The closing of Purchasing is especially interesting, as it effectively leaves the US market without a purchasing/procurement focused trade publication of any sort, with the exception of the Institute for Supply Management's Inside Supply Management, sent to members of the professional association and other paid subscribers. Most of the Reed supply chain related publications were what is known as "controlled subscription" magazines, in which hard copy subscriptions are free to subscribers who meet certain criteria, with the magazine depending solely on advertising and even revenues.
Supply Chain Management Review is Among the Well-Known Titles Being Closed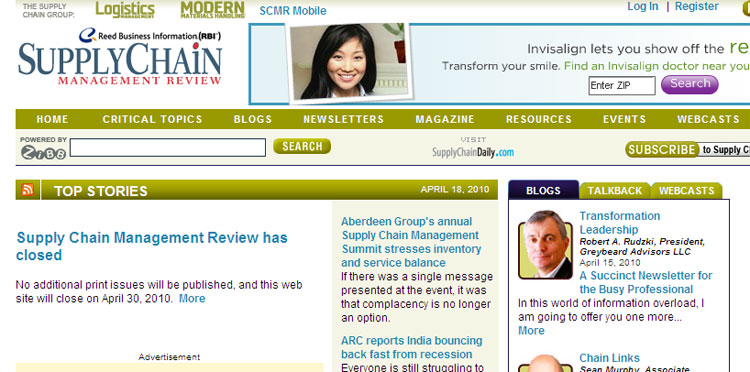 Insiders Hoping to Revive the Titles?
SCDigest has learned that a group of publishers and editorial management members are working to try to restart at least the four magazines in the supply chain group.
(Supply Chain Trends and Issues Article - Continued Below)