SCDigest Editorial Staff
More than 50 years ago, Malcom McLean in large part ushered in the start of the current globalization era when he first deployed the ocean shipping containers he had invented at the port of New Jersey in 1956.
Half a century later, is it time to finally rethink "the box that changed the world?"
The physical container that McLean invented is really little changed from its original design, and remains very efficient for shipping goods.
But there are several problems Global trade imbalances, such as Asia to the US or Europe, mean there are many times more full containers coming to some regions than there are reciprocal full containers make a return trip. So, ships must ultimately send back bulky empty containers.
Second, there have always been challenges, especially over the last five years, in moving empty containers inland from port areas to shippers in more central areas of the US, leading to issues of both cost and availability for heartland exporters. (See Back again - Bottlenecks in Shipping US Exports to World Markets.)
Finally, stored empty containers take up a tremendous amount of space, especially in port terminal areas.
Add to that growing concern about the environmental impact and energy use of moving anything these days, and it seems obvious that someone should develop a collapsible container that would take up a substantially smaller footprint when empty.
In fact, many have tried, going back into the 1970s. Several companies have taken a run at it in the succeeding decades, with several efforts looking promising at the time. The challenges are many, starting with the ability of foldable or collapsible containers to withstand the physical pounding of repeated ocean and inland transport trips. Maintenance costs can be high even on traditional containers, and perhaps excessively so on collapsible models. Such containers also need to remain impervious to wind, rain and other environmental elements over time – a harder problem to address than many imagine.
So, these previous efforts have largely failed. But now at last perhaps some real progress has been made.
For example: Successful investment banker Avinder Bindra of India perceived the basic problem, and partnered with the India Institute of Technology. Three years later, the group developed an approach in which the walls of the container, powered by hydraulics, fold up vertically to about one-fourth of the normal container size. (See image nearby, or watch YouTube Video.) It takes one or at most two workers to collapse the new Bindra container.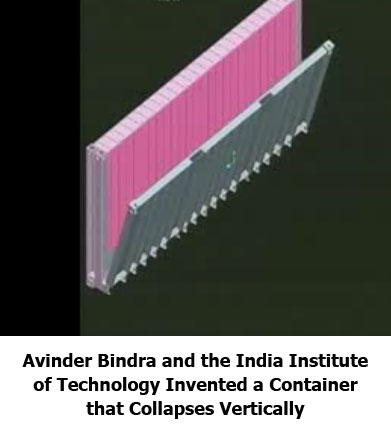 Compact Container Systems of Boston has taken a similar approach, except its product collapses a container in the other direction (see image below). It demonstrated its first prototype at a trade show in November and is now working on commercialization of the product.



Story Continued Below